Walk like a dead Egyptian
Posted by

Janine

on 25 Apr 2011 in blog
As promised, here are my new sandals: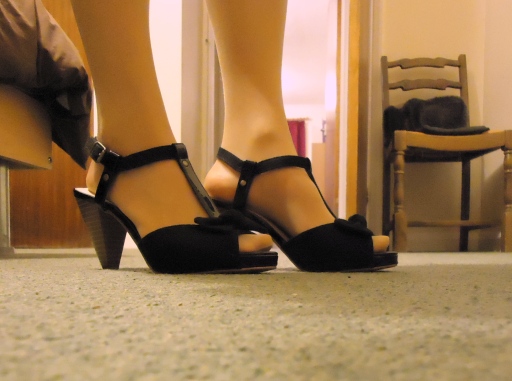 They are surprisingly comfortable! I'M GOING TO WEAR THEM ALL SUMMER.
In other news, two things happened to me yesterday:
1. I watched the second episode of The Walking Dead.
2. I had a nightmare about evil mummies coming back to life.
I HAVE A SNEAKING SUSPICION THAT 1. AND 2. MAY BE RELATED.
Hmm. I shall have to watch this so I can be prepared.
I've always thought it would be awesome to be a zombie extra in a film. Trying to walk like a zombie is so much fun! (I can't be the only person who tries this at home. Can I?)
9 comments
Do you mean like chaps? Chaps are cool!
Comment from:
Nick - Fashion Guru
Visitor
Janny,
I don't talk fashion. I DO fashion.
Bang on trend for Summer 11… crotchless trousers!
@Nicholas: NOT ALL SANDALS ARE JESUS SANDALS, YOU KNOW.
Or are these shoes? They seem too open to be shoes. HELP ME, NICK, I NEED FASHION VOCABULARY LESSONS.
Janny, can you really call those sandals? I thought sandals were flat and worn with socks????
Love the shoes!
For some reason, your last two posts haven't made it into my RSS reader, despite the fact that I am still subscribed to the tfc feed? Maybe it's Google's fault.
Thanks!
Yeah, I think my Dad has read the graphic novels. He's the one who told me to watch the show. Let's hope I can get through it without any more nightmares!
Hooooootttttttttt.
Sex~ay sandals ma'm :D Walking Dead is really good. You should read the graphic novels! Although, I had nightmares after it…but still really good! <3
Zombie Autopsies? Sounds a little gruesome! Ahaha. It's always good to be prepared though!
Love the shoes! They are very cute and remind me a bit of the shoes used for Latin dancing.
Speaking of zombies, checo out this book
The Zombie Autopsies: Secret Notebooks from the Apocalypse
By Steven C. Schlozman