Tsubasa Chronicle - season 2
Posted by

Janine

on 30 Apr 2006 in blog
I have a bone to pick with the new ending.
It's cute; they show everyone when they're little.
Syaoran's past - tragic, Kurogane's past - tragic,
and Fay's past??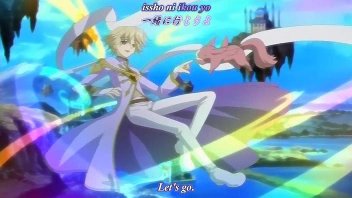 He's got a pink magical pony!
A freaking magical pony!!!
*gets a hernia* Now, I don't know for certain, but I really don't think that Fay's past was all fun and magical ponies.
The episode wasn't too bad, but I keep remembering how nice the movie looked and weeping. I won't mention the strange order of the worlds, I don't understand it, but I'm over it. They'll show Ashura sometime though won't they? *can't wait to see Ashura*
Watching xxxHolic as well though, I suddenly remember that I do enjoy the storylines in xxxHolic so much more than Tsubasa, even if the character designs are incredibly inconsistent.
But dear lord. A PINK MAGICAL PONY?
2 comments
I watch Tsubasa Chronicle by downloading the subs from here (although I don't think it's possible to download the subs of first season anymore, because it's been licensed in the US). I'm watching the second season at the moment; I just saw episode 31 the other day.
Do you read the manga at all? I'd highly recommend it!
I'm a very loyal viewer of Tsubasa Chronicle of The Wings. But in my country, last week is the episode 10. how far you watched that very cool anime?