Posted by

Janine

on 19 May 2006 in blog
As of today I only have one coursework deadline left! (and two exams)
Yes!
I also applied to another job today!
Yes!
I've been hanging around YouTube a lot today also.
Umm...yes?
Some of the things I found:
An Ouran High School Host Club AMV - It's the best AMV I've seen in ages.
Some good music videos from back in the day:
Weapon of Choice by Fatboy Slim - I loved this song.
Frontier Psychiatrist by the Avalanches - I loved this song even more! The turtle is super.
And the special mention goes to:
jpwoo, drew me a fantastic piece of fanart! I thought I may as well mention it here seeing as it stars Moo, as well as Sethmosis from Clematis.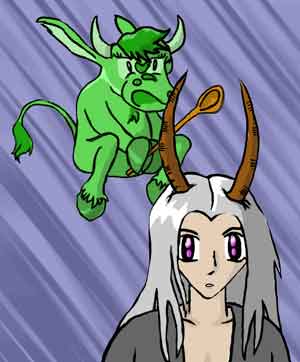 Atacking characters with a spoon for the win! This picture makes me awful happy.
3 comments
Yep, me too. I saw th high scores and felt embarrased……
I'm not very good at this, my highest was 22 >_>
*practice practice practice*