Let me take you to funky town
Posted by

Janine

on 15 Jun 2005 in blog
Well I've got a lot to say so I'd better get cracking (I was going to post yesterday but my computer's been struggling against the new anti-virus I installed).
So, last week I had a visitor in the form of Steve...at least it looked like him (of course one can never tell if you're going to go meeting people willy-nilly at airports). We had a very enjoyable time (by that I mean I had an enjoyable time...Steve probably hated it or something...)
Ahhh! It's so nice to see friends! I mean, I don't really have any really good friends out here, and it's one of the things I miss most. I should get used to it, I'm sure you're not allowed to have friends (or fun) once you graduate.
We did lots of stuff, you know, the usual touristy business. In the heat. We mainly did the touristy stuff in the heat....it is so hot here at the moment! You just hate being outside because it's too hot (I'm English, I'm not used to extreme weather...yes 32 degrees Celcius does count as extreme for me). Sometimes there are big thunder and lightning storms, and sometimes you decide that that would be the ideal time to go up the Empire State Tower. Luckily though the weather had cleared by the time we got there, so no death waited for us at the top. It was, however, still a little misty around so we couldn't see too far, but I realised that this actually made for some nice photos. Such as this: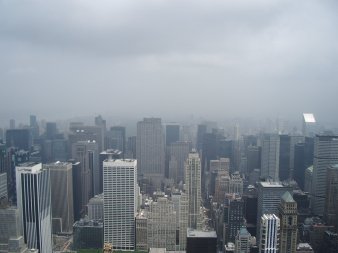 It was taken looking north, towards central park, not that you can tell from the picture. I like it, the whole thing looks really desolate. It looks like a really lonely place (although in reality it's bustling with people).
We went to go see some films for ourselves, and a broadway show. Although my advice is that it's probably best to find out what the show is about before you buy tickets...I felt a little out of place and it wasn't even on Broadway dammit! But I shall say no more about that because it's a tad embarrassing...
Soo films. We saw Madagascar which was actually better than I thought it would be (I assumed that it would be rubbish). Some of the humour was heavy handed, but then, it is a children's film. But it was quite funny over all and even better because it was set in New York and we could recognise all the places they went to.
We also saw Sin City. All I knew about it beforehand was that it was based on a graphic novel which my Dad reads. It's a very very stylised film, and while stylised is cool, I'm not sure if maybe they took it a bit too far. It's probably good, but I get the feeling that I wasn't the target audience. I'm not really interested in guns and girls and violence (well OK, maybe I do like a bit of violence in my films, but this seemed uncomfortably violent to me, and did the people doing the fighting have to be so ugly?). And I'm sure that the thing is supposed to be a barrel of cliches and that's why it's cool, but it seemed to be a bit devoid of plot, or anything to keep me interested.
And then we saw a film that I was very excited to see...Howl's Moving Castle! On the first day it was out too (it's funny the people you see in the cinema on the first day...). So yes, it seemed similar to the other two studio Ghibli films that I've seen, in that it was really weird, but in a charming way. And also like the other Ghibli films, it seemed to have an ending at a random point that was kind of pulled out from nowhere (in my opinion), the whole cinema laughed at the ending...I'm sure they weren't supposed to laugh. It has funny bits (especially the witch of the west; 'what a lovely fire') and exciting bits and bits that looked great. And it had Howl in it. I'd heard people fangirling about Howl beforehand although I couldn't really see why, he seems bishounen for Ghibli, but not super bishounen. And then I saw the film for myself, and it's all in the way he was animated...I can't really put my finger on how, but he came across as very charming, and vain, but mostly charming. Although his English voice did not suit him at all (I get put off when anime characters have American accents, because it's not set in America and I don't have one myself). Steve and I were not sure if Sophie's voice actor was actually English or not...I'm too lazy to look it up.
If you think I'm done then you're in for a nasty surprise. There's more!
I bought some new CDs for myself. I got 'Demon Days' by Gorillaz, 'X&Y' by Coldplay and 'Get Behind Me Satan' by the White Stripes (which came with a free T-shirt, which would fit someone three times my size). Out of all of them, the one I've been enjoying the most is Gorillaz, and I would go as far as to say that it's better than their first album. It's got a sound that I can't really put my finger on, but I really like it. At this current point in time, I'm really feeling the track 'Dare', it seems to strike some kind of raw nerve in me, I have no idea why.
The White Stripes needs some more listening to, I think. It may have been the only track I'd heard before, but the first song 'Blue Orchid' seems to be the best on the album. It's always a bit of a shame when the first song is the best because there is no more to look forward to, but it is an awesome song, I'd play it really loud if I wasn't worried about the people in the apartment below me.
The new Coldplay album also needs more listening to, so I can't really give an opinion. My first thoughts are that it sounds a tad more lively than their previous stuff, but then you listen harder and realise that you can still hear the Coldplay in there. Listening to Coldplay makes me feel sad.
I sit back and think about the music I like. I used to really love Coldplay; I listened to 'Parachutes' almost non-stop for months after I bought it. Along with people like Travis and Badly Drawn Boy, I really liked music that was calm and sweet and melancholy but with a beautiful tune. And now I seem to prefer music which is more upbeat (eg. Franz Ferdinand, the Bravery, Kaiser Chiefs, Killers), something I can get really excited about, music that makes me want to dance. And I wonder if this is a change in the music industry or rather a change in me as a person.
To sum it up; new Gorillaz - yes yes yes!
new White Stripes and Coldplay - no comment as of yet
Annnd, I bought more things! This time, mainly manga, yes, my Amazon parcel came through. I now own, Tokyo Babylon volume 7, Fruits Basket volume 3 and xxxHolic volume 5. I've finished reading them all already >_>
I've talked about the new volume of xxxHolic in other places and I'm too tired to say everthing twice so I'll be brief. In this volume it stood out to me how much of a good person Doumeki is. He just seems to be someone who is genuinely good and will do the right things, and that makes me respect him. The pipe fox spirit is really really cute (really really!). There were some particularly nice chapter covers in this volume, especially the ones with Yuuko and Watanuki dressed up all Indian-like.
I don't have anything particular to say about Fruits Basket, I just enjoyed it is all. I like Hatsuharu more than I thought I would, and I like his coat with the furry collar (in a very roundabout way, this reminds me that I should continue reading Loveless). Shigure gets more interesting (smiles all the time but no-one can tell what he's thinking? Sounds familiar...) and I like the way he deals with his editor.
This brings me around to the final volume of Tokyo Babylon. I can't talk about this without loads of spoilers, so I'm going to try to cut it. Click on the read more at the end of the post to read it.
And thats almost all I want to say. But to truly turn this post into bishounen-u-like; I've been reading chapters 58-64 of Tsubasa, and I have to say..........Ashura *o*
I've always been tempted to read RG Veda purely because Ashura is so pretty, even better in the Tsubasa style. In my cheapo CLAMP artbook the Ashura pictures are the best ones, especially the ones with lots of blood in >_>
I am sorely tempted to make this blog a new Ashura layout with the pictures from Tsubasa, but I really can't be bothered to fiddle with all that php again TT_TT
Tokyo Babylon volume 7 spoilers ahead
I read this volume as fast as I could. And once I'd finished it I just felt numb for about two days (concentrating at work was hard). Now, before I read it I had heard that Hokuto was going to die, and so seeing the back cover made me sad (although that's actually Subaru there, I didn't realise) and the coloured picture insert thing was even more sad because Hokuto wasn't in it.
I did manage to stay completely spoiler free about the bet though and that's what shocked me the most. In fact, Hokuto's death was not very shocking, it was glanced over so quickly. But let's get back to the bet, I had always thought that Seishiro had some super evil plan and that he had an unhealthy obsession with Subaru and wanted to do something really nasty to him. I never once suspected that Seishiro didn't feel anything at all, that he didn't care about Subaru, good or bad, just nothing. It makes me see his character in a whole different light, I thought he had problems, but I never realised they were emotional problems. And you realise that all through the series, just like Subaru, you never really knew who Seishiro was.
And how sad for Subaru, how utterly, soul-destroyingly, crushingly sad. It is one thing for Seishiro to want to kill him, and a completely different thing for Seishiro to kill him because he can and because he doesn't care whether Subaru is alive or not. To be told that he meant nothing to Seishiro, nothing at all, that he was no different to any inanimate object, must have been awful, I can't even imagine it. Of course if someone is kicking you while they say it, it can only be worse.
And at the end we see older Subaru :D (it may be because I understand why he seems so different now, but he looks better than when I saw him appear in X). I really thought that there was going to be much more of an exciting ending. The one we get is just...depressing, but it is clever, oh so clever, because I've only read up to where Subaru first appears in X and I really want to read more now so I can find out what happens. Once again, CLAMP loves the marketing. I need to read X now, I need to find out what happens when Subaru meets Seishiro again. I would very much like to see an angry Subaru let lose all his whoopass on Seishiro. But I wonder, when they do meet, could Subaru actually bring himself to do it?
Haha! I'm sure that most people have read more of X than I have and so know the answer. But I am behind on X, and my mangas are back in England where I left them...and I really want to read them!