Posted by

Janine

on 10 Jan 2006 in blog
I was playing with my camera again today :D
I was going to post loads of photos, but I'm holding back so it won't be too boring.
I went food shopping today. I always find food from other countries fascinating to look at, the food, the packaging, everything. You may find this interesting if you don't live in the UK.

I also find it fascinating to look at other peoples lived in spaces, especially desks.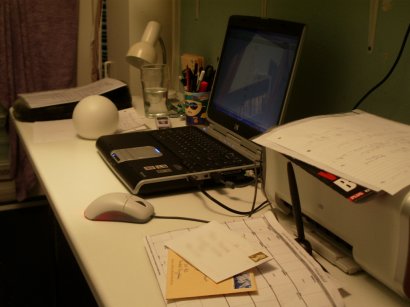 My desk is perhaps slightly more messy than normal due to coursework stress.
8 comments
Fondue! Now that sounds nice!
yep, they managed to make it taste almost as bad as Hershey's, not quite so bad but close. Although Hershey's is not too bad if you make fondue out of it. I'll be making in tonight (again)
You know, I never tried the Cadbury's in the US, I was too worried about being dissappointed. Does it taste like Hershey's at all?
I haven't seen Legally Blonde I'm afriad. What's the problem? I love to hear about other people struggling with their studies (yay group solidarity!)
Hurrah for vacations! All those places you're thinking of sound cool. Tell you what, I may be visiting Luxembourg in February too, but nothing's been sorted yet.
Also, have you seen this?
This just show that I should read your posts more carefully. I just realized that you did receive my letter. So (nuge, nuge) I am waiting for more letters from you. I've been trying to study for the LSAT (Law School Admission Test) and the process is, well frustrating to say the least. ..should I watch Project Runway or study…hm, tough choice! (Project Runway won ;)Have you seen Legally Blonde? If you did, I have the exact problem that Elle was solving while taking the test and I'd be glad to post it here (being the nerd that I am) so that people can see how well they did compared to the heroine. LMK what you think…
As you could probably tell from my letter I am very much fasinated by geishas. So yesterday I bought another book about geishas. It's by Lisa Dalby (an anthopologist by vocation) but, more importantly, the only foreigner to ever become a geisha. Needless to say, it's not helping with my LSAT studies. Good luck with your classes!
Mariya
Oh, I just read your post about going to Rome and I am thinking of going on a little vacation with my sister at the end of March. It will either be Athens or Florence and Venice.
You call that messy?! You should take a look at my desk! But did I just spy a letter in a yellow envelope from someone in NYC ;) I hope that this is the second one that I wrote. If so, I am anxiously awaiting more letters from you.
Oh, and I love UK Cadbury (never quite sure how to spell it though) chocolate. It just doesn't taste the same in the US. I miss it…
…can I have some? I'll swap you for a ryvita :D
you will find that bourneville is superior to diary milk in every respect including taste.