Posted by

Janine

on 13 May 2008 in blog
Hello. I've finished my coursework, so I've time to make that epic post that I've been wanting to make for ages. So.
Item A
Good Lord, this is a big shout out to James. He's in Tanzania of all places! I've been reading his blog and I can't quite believe it. It sounds like a telly show or something. Not that James is likely to read this, but, you know, I wish him all the best all the same :D
Item B
Alright then, lets talk about this work experience that I did. I spent two weeks in the archive of a large banking company. Their office was in the city! How exciting is that? I took the tube everyday, with all the suited, corporate, big city workers. I liked that. Well, pretending to be a city worker that is, not taking the tube. Don't get me wrong, I still think the tube is fun to a ridiculous degree, but it is considerably less fun if it is 8:30am, packed full of stressed people, and my stomach is very full from a big breakfast. Bonus points if the train has to wait in the middle of a tunnel for 5 minutes, and I'm usually the opposite of claustrophobic, but when that happens, something inside me just starts shouting "I want to get off! I want to get off! Why am I here? Why are all these people in my goddamn FACE?" Good times. Good times.
Um, so my job was to catalogue two small collections. It was fun. No really! You might not think that banking records are the most interesting, but when they date back to 1816, and are written in old flowy handwriting? Oh God. This is why I love 'doing' archives. I love touching the old books and imagining them being created. Ahaha. I even came across some photos of company directors from the 1920s, and one of them was wearing a monocle! A monocle! Brilliant. Yes, being a student and sitting around at home all day is nice, but actually going and getting my hands dirty with some old stuff is betterer.
Item C: aka stuff what I am watching right now
Right, before I get onto the whole anime business. I have to talk about another show, that being:
Peep Show
The new series has just started and it is amazing brilliant. I am loving it. It is the fifth series, and it is still just as hilarious as the previous 4 series. What's going on? Why hasn't the comedy started waning yet? Anyway, that's a good thing. And this show is funny; it is definitely one of my favourite comedy shows ever. Oh yes, it makes me cringe and feel bad too, but in a good way. For fun times, here's the very first part of the very first episode of the very first series. Crikey.
Alrighty. So it's new anime season time (has been for a few weeks in fact). Let me give you a rundown of what I'm watching. (Not sure why I feel compelled to do this, but I do.)
iiiin alpahbetical order, here we go.
Amatsuki
About some boy who gets trapped in the past, and I have no idea what's going on. Why am I watching this one? Probably because it's not awful. Hopefully it'll turn out to be interesting.
Code Geass R2
Needs no explanation. I went crazy over the first series of Code Geass last year. I find myself being slightly less crazy over the second series, but only because I'm still pining over Gundam00, which I have to say, was better. But, Code Geass is still fun and exciting and full of plot twists and turns. I'm betting it's going to get even better when we get to the season finale. Will Lelouch eventually become his father without realising it? I HOPE SO.
I wonder if I'm going to get the 'got to draw Lelouch' drawing bug again. Only time will tell.
Itazura na Kiss
This is my corny corny shoujo of the season. Girl falls in love with the smartest boy at school. Boy hates girl. But girl's family has to move in with boy's family. Hijinks ensue. Don't look at me like that. I like a bit of shoujo every now and again. This show isn't amazing, but it's cute. Clearly they are going to be all rabu-rabu by the end.
Kurenai
I'm still kind of worried that this show is going to turn into something I don't want it to. One of the main characters is a very forthright young girl of 7 or so, and I am worried that she is fanservice. No bad loli fanservice has appeared yet though, and the story is interesting, and the animation is nice. Hopefully it'll stay that way.
Toshokan Sensou
The subtitle for this show is Library War. No really! I am not kidding you! It's set in a time when certain books in Japan have been made illegal, so libraries have started up their own armies to try to protect the books. The concept makes me laugh, but it's actually quite a good show. The only problem is is that it makes me shout things at the screen, such as "How on Earth did a library ever get that much money?" and "What about the archives! They're much more important! Won't anyone thing of the archives?". And then I try to imagine archive wars and it makes me laugh.
Vampire Knight
This is my other cheesy shoujo of this season. It is about a school of vampires; that should tell you enough. It's kind of corny, but also kind of really good. I can't get enough of it. I am kind of ashamed to get so caught up in it, but each time her adopted brother gets urges to bite her neck, I am ON THE EDGE OF MY SEAT. I shouldn't be admitting to this.
xxxHolic Kei
So the first series of the xxxHolic anime was a little poor (not Tsubasa Chronicle level poor, of course, but still poor). This season seems to be slightly better made, but it's not amazing. Maybe I don't have the interest because, having read the manga, I know what's going to happen already? I don't know. I'm watching this one out of loyalty.
And a special mention goes out to Ghost Hound, which I just finished watching, and is a fantastic series all round. Really. I don't have enough words to describe how good it was. Everyone should watch this.
Another special mention to Tsubasa RC chapter 189 which made me say OMG. In a big way. I might expand on this more in another post if I get time.
And that brings us on to:
Item D
Because, really, I can't sit down and solidly write coursework. I really can't. So sometime in the past couple of days, I drew a little fanart of Allelujah (not Tieria, I know, but still Gundam00. I am quite possibly addicted to this show.)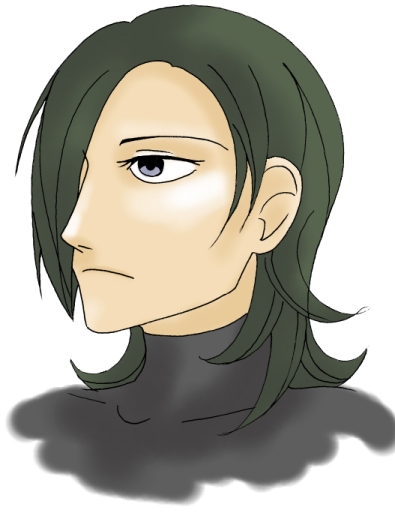 What I really really wanted to do was to draw Allelujah's cheekbones. I don't know why I think it, but in my head he has nice cheekbones. I'm not quite sure that I succeeded, but this was just a quick little procrastination sketch.
And did you know that if you do a google image search for Tieria fanart, nearly all my Tieria fanarts come up almost at the top of the page? I don't quite know how I feel about that. Perhaps a little embarrassed?
Hahaha, and looking at my blog's referral stats, most people that find this blog through search engines are searching for some combination of Tieria or Lockon/Tieria. Golly. But then, one of the referring searches was for 'dissertation proposal on tap dancing' so, um?