Posted by

Janine

on 12 Jan 2022 in blog
Happy New Year everyone! I have decided to go for a slightly new blog layout this New Year. Hopefully everything is working as it should be, but if you come across things that don't do what they should, let me know.
I hope you're having a good 2022 so far. I am taking my new year slowly. In fact, I have decided to take the whole year slowly. I have been doing mindfulness meditation for over a year now, and I am trying to put it into practice a bit more: less worrying about what's ahead, more enjoying what's happening right now. Because if this pandemic has taught us anything, it's that the future is utterly unpredictable.
For Christmas this year, I was able to go visit my parents. It was lovely to spend Christmas with them again after last year's hiatus. Thankfully none of us have caught covid yet, although it is certainly doing the rounds of my extended family, friends and colleagues (all fine so far). But, as I said, I'm not going to worry about what the future might hold. My parents and I are all vaccinated, and that's as much as we can do for now.
Let's have a run-down of Christmas presents: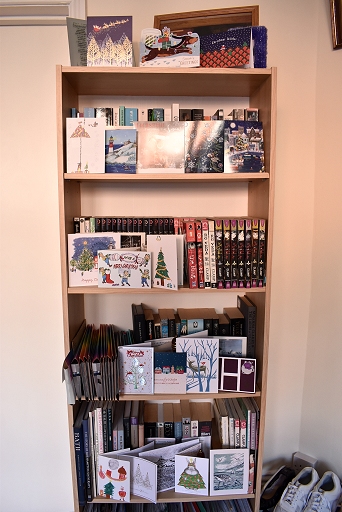 A lovely lot of cards this year, including many hand-drawn ones by my friends' children. I love those; all the little details are so much fun. Let's hope I can do a better job of actually meeting some friends this year.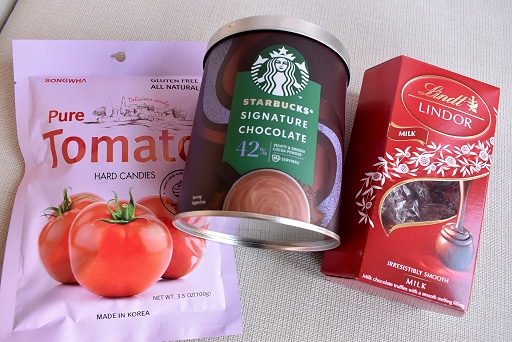 Food gifts. I love Lindor to pieces, and having tried the hot chocolate a couple of times I can confirm that it's very nice (super creamy, chocolatey and just the right amount of sweetness). I have not yet tried the tomato candy from Mariya. I think I will need to build up some courage first! At the same time, something tells me that the potential sweet and sour flavour could be really moreish. I will wait to find out.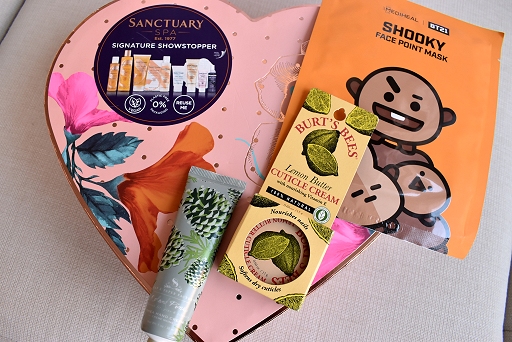 Toiletries. The Sanctuary collection is from Asia and is massive! My jaw nearly hit the floor when I opened the parcel. So many treats in there to use throughout the year. The rest of the gifts are from Mariya. Korean face masks are always fun, and I imagine this will be the same. (The internet tells me Shooky is meant to be a cookie?) I haven't tried the hand cream yet, but the cuticle cream smells amazing; it makes me feel very pampered when I put it on.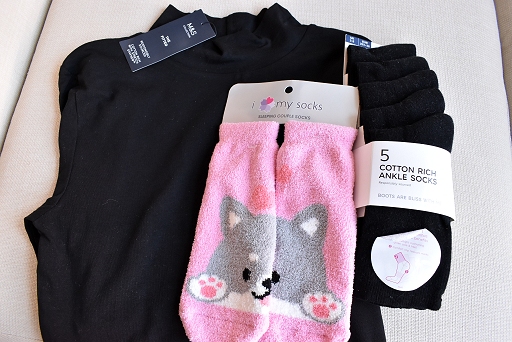 Clothes. Some plain black socks from my parents, which I had requested. They got me a black top too! It should work well for layering on cold days. The fluffy dog socks from Mariya are super cute and they're really soft and comfy to wear.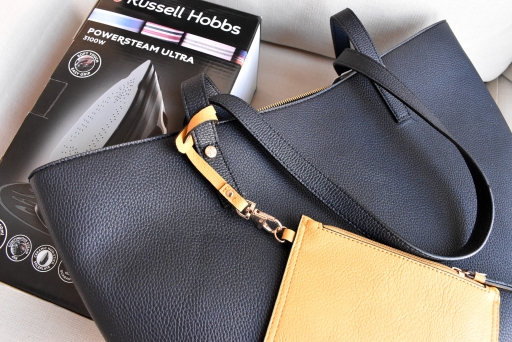 Some larger presents, which I requested from my parents. A new handbag from Accessorize because my existing one is several years old and falling apart. This new bag is huge! I underestimated how big it would be when I saw it in the shop. It fits loads in, and I am also in danger of hitting multiple people with it when wearing it! The iron is to replace one that I've had for about 15 years and was second-hand when I got it, so I felt I was due a new one. This one is heavy! Let's hope it works well.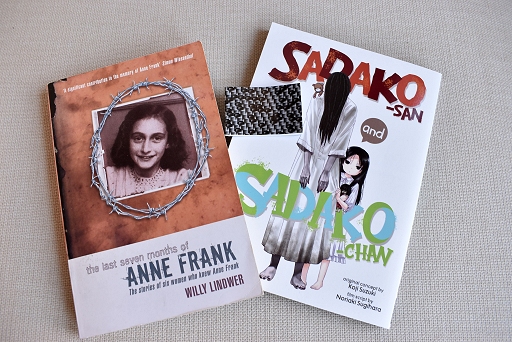 Books. I've not read Anne Frank's diary, so I am interested to learn more. I imagine it's going to be very sad though. "Sadako-san and Sadako-chan" was chosen by my Dad because he remembered how much I enjoyed the film "The Ring" when it came out, and omg even the front cover of this book is hilarious. I am excited to get stuck in. Also pictured is a tiny notebook that came from my Christmas cracker! I think it's maybe meant to be a flip-book for animations, but I'm not sure I have the energy to attempt that. I will see if I can find some other use for it.
2 comments
Shame the book is not called Sadako-San, Sadako-Tran.
If you fancy visiting Anne Frank's house when you're next in the Dam, let me know! You have to book the tickets a few weeks in advance though!
P.s. like the new font
Glad you like the new font!
I'd love to go to Anne Frank's house. I remember seeing massive queues when we went past, so I can understand that booking is a must. Next time I'm in the Dam we'll do it.