Posted by

Janine

on 28 Apr 2010 in blog
After weeks and weeks and weeks and weeks, I finally finished that drawing meme.
The final request, made by Nick, was for a picture of cheeky gardener, Sonia: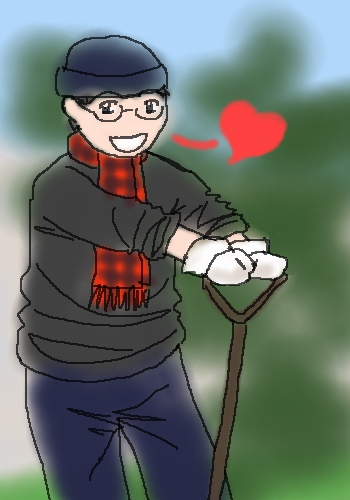 Who's the heart for? I will let you fight it out amongst yourselves, because I can't remember if it was Nick or James who she had the hots for. Maybe it was both, you lucky boys.
At first, I found this request quite hard, because the last time I saw Sonia was 4 years ago, so it was quite hard to remember what she looked like. But then I made a fortuitous discovery and found that I have 230MB worth of video of Sonia gardening on my computer, all with Steve's dry commentary.
One of the commentary highlights:
"You can see some cars in the background. It shows you what a busy street this is. Only the hardiest of gardeners can be prepared to take on such an environment."
- Yup. That Sonia. She was hardcore.
This picture was sketched out very quickly on my tablet, which explains why it looks so bad XDDD One day I will master the use of a tablet for drawing, but not today!
In other news, it's time for...
Best conversation of the day
At work, we got to talking about what would happen if the one ring, in the Lord of the Rings, was actually a Prince Albert. Suddenly the whole story has a different aura. And it makes Gollum talking about 'his precious' rather... interesting
BONUS SECTION: SONG OF THE MOMENT
It's old, but it's good. I'm not sure, but this may just be my favourite song ever.