Food Post - 24 April 2022
Posted by

Janine

on 24 Apr 2022 in blog
Hello! It's been ages. I have been cooking, but just not writing about it, so I've built up a number of dishes to talk about today. Several of them have been surprisingly delicious! So let's get into it.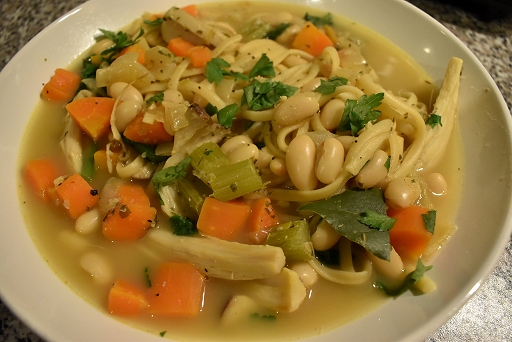 'No chicken' noodle soup
This dish was sadly lacklustre. I normally prefer a chunky soup, but this one was so watery! I've not eaten king oyster mushrooms before; turns out they don't have as much flavour as I was hoping and they are really chewy and hard to eat. A caveat though: I didn't buy any garlic and herb nooch seasoning. Instead I tried to make my own by mixing dried yeast with the dried herbs and spices listed for the seasoning online. Maybe if I'd actually bought the seasoning this dish would be better? Because as it was, it was bland, watery and very much lacking in umami. The sort of dish that gives vegan food a bad reputation.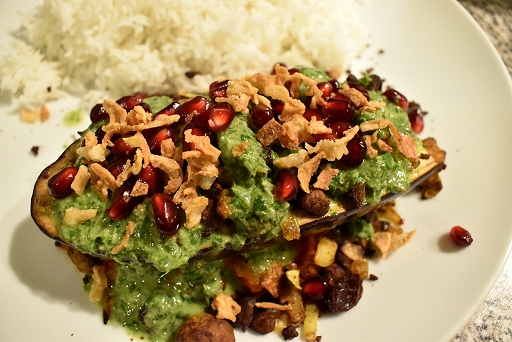 Vegan stuffed aubergines
Unlike the last recipe, this one gives vegan food an excellent reputation. Utterly delicious! One of the best vegan dishes I've ever eaten. The reason it's so delicious could be that there is 25ml olive oil per person in the sauce, so it's not the healthiest of dishes. It's not the easiest to make either, because there are lots of components and you have to get out a food processor at one point. It might just be worth the effort for the taste though. It's meaty and rich, with so much umami from the tahini, the mince and the onions, and then sweetness and freshness too. I don't normally like raisins or tahini but they work perfectly here. And even though the recipe says the fried onion and pomegranate seeds are optional, they take the dish to the next level; it wouldn't be anywhere near as good without them.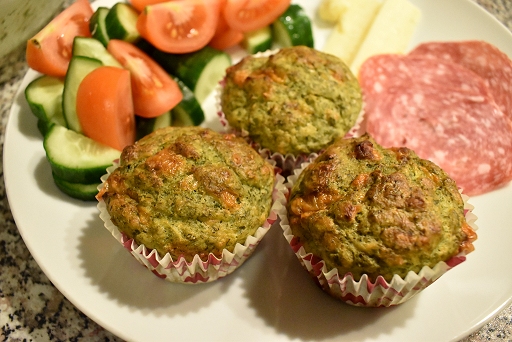 Cheesy kale muffins
This recipe was another roaring success. The mixture of the cheese, kale and herbs is delicious and tastes, surprisingly, like a hearty roast dinner. The kale keeps the muffins nice and moist too! The only issue is that these are low fat muffins, meaning there isn't enough fat in them to make the cupcake liners peel away easily. It's quite disappointing to make something delicious but then find half of it stuck to the paper. Baking them directly in an oiled muffin tin would probably be better. I couldn't find fresh dill so I used dried, but it was still delicious. I was also lucky to end up with more muffins than the recipe said. There is a lot of mixture, but it didn't rise as much as I was worried it would do, so I could have filled the cases higher. A minor technical glitch. I don't care. These were lovely.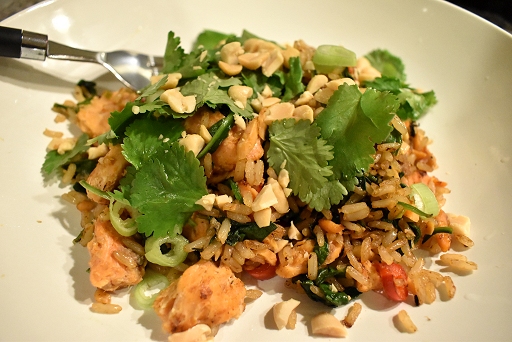 Chilli and lime salmon fried rice
This dish was nice, and very edible, but didn't quite have the wow factor of some of the other recipes here. The peanuts, salmon, sweet chilli sauce, lime juice and coriander all combined to make it tasty, but it was slightly one-note. Also, I foolishly thought that using tinned salmon would make it quicker to make than if the recipe had asked for fresh salmon. Wrong. Baking fresh salmon in the oven would probably have been quicker than dealing with the tinned stuff, although it would have been more expensive. You see, I had never used tinned salmon before and I was surprised to find skin and bones in the tin! Even though the tinned salmon was already cooked, it took ages to sift through everything to make sure I'd taken all the bones out. A right palaver, but I can see how it's good if you want salmon but don't want to spend your life-savings buying some.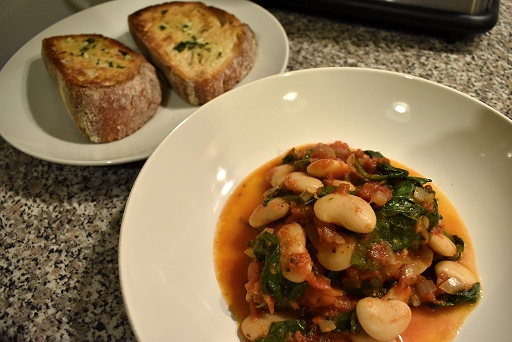 Butter bean and tomato stew with garlic bread
This is another vegan recipe (if you use vegan bread, that is) that really blew me away with how delicious it is. On paper it sounds a bit boring. How can just tinned beans and tinned tomatoes be interesting in any way? I still don't quite know how they did it, but all the flavours are wonderfully balanced. There was lots of umami from the garlic and tomatoes, and with just enough sweetness and herbs too. The garlic bread is *chef's kiss* and really adds something to the stew when you eat them both together. I splurged on buying a slightly-pricey white sourdough and I cut it into very chunky slices. I have no regrets. Ladling juicy stew onto thick garlic bread and crunching it down was glorious. My God.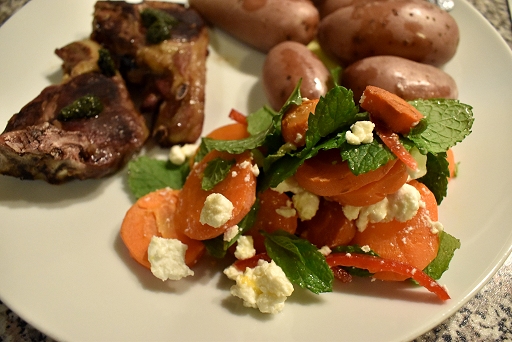 Roasted carrots with feta and chilli
This recipe was ok. Like the salmon stir-fry above, it was nice, but some of the other dishes in this post are so amazing it doesn't live up to them. It tastes exactly like you'd imagine carrots with lemon, mint, chilli and feta to taste: you can taste the individual ingredients, but they don't come together to make anything better than that. I chose to eat them with lamb chops and I'm glad I did; the fresh tanginess offset the richness of the lamb very well.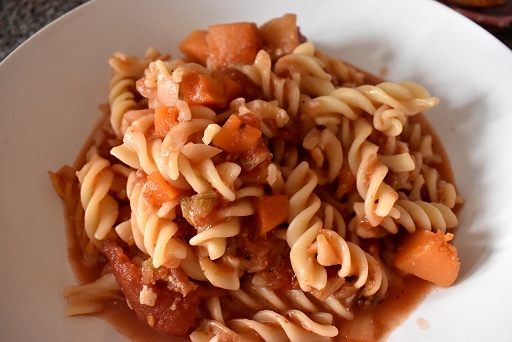 Odds and ends arrabiata al forno
I will admit I was scared going into this one. I have been stung one too many times in the past by Jamie Oliver recipes: dishes that look like they are going to be delicious but end up being oddly sweet and without enough umami. I am happy to say that with this recipe Jamie has bucked the trend! (Maybe it's because I could choose whatever cheese I liked, so I went for a mature cheddar to add more umami.) The butternut squash surprisingly doesn't make the dish too sweet. Instead it's rich with cheese and tomatoeyness, and with a nice hint of chilli too. My only issue is that the sauce was still very liquid when it was cooked, so the dish wasn't as oozy as it could have been. That may be down to the fact that I don't have a pan that will work on the hob and in the oven, so I had to transfer everything from my hob pan into a cold casserole dish to bake it (I have suffered from this cold casserole dish issue before). Still, I am quite happy to put up with a sauce that's too runny when it tastes nice, which this one does.