Posted by

Janine

on 18 Aug 2013 in blog
Hold on to your hats. I haven't blogged about my cooking adventures for the past month and a half. This is going to be a long one.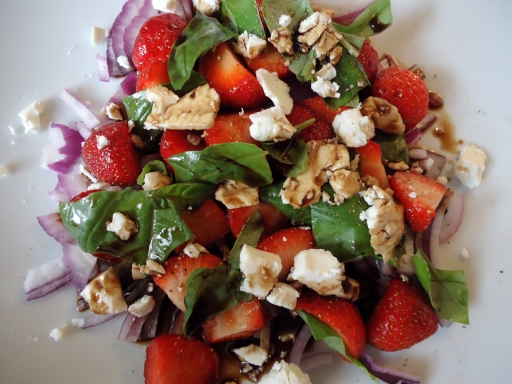 Strawberry and basil salad with balsamic reduction
This salad is really quick to make and looks so summery! Unfortunately, I was a bit wary about eating it because I normally don't like sweet and savoury mixed together, or raw onions, or feta. Good job. Luckily for me, I got a pleasant surprise when I took my first mouthful because the taste is actually pretty nice. Well, nice at the beginning anyway. It's still a bit too sweet for me so I started to feel a little ill once I got halfway through but let's not dwell on that part.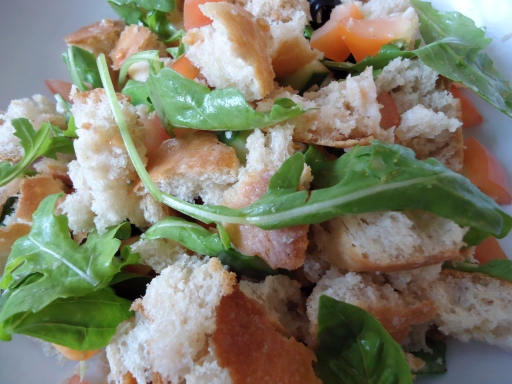 Panzanella Tuscan bread salad
I don't have much to say about this one. It's nice enough to eat (filling too) and is good for those hot days when you want to eat salad and nothing else.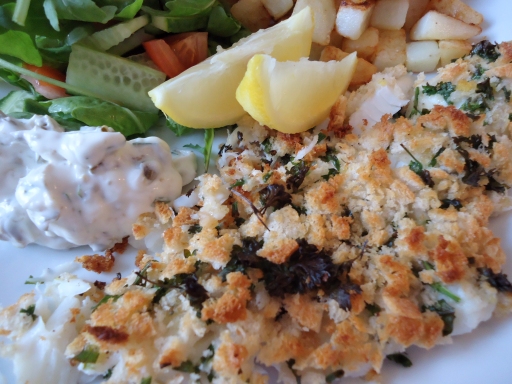 Lemon and herb crusted fish
Oh God, this dish is so good! It's a bit of a faff to make and if, like mine, the fillet is smaller than suggested then it can break up when you try to take it out of the baking tray, but it's so worth it anyway. The fish is nice and goes really well with the potatoes and, man, that tarragon mayo is the jewel in the crown. I get the feeling it's not so healthy but who cares? I could easily eat it seven days in a row.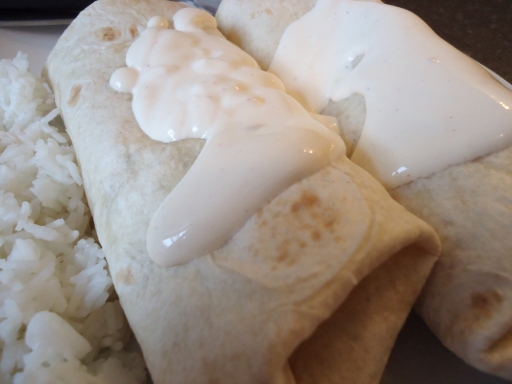 Colin McGurran's chicken fajita kebabs
Is this the most beige meal in the world or what? Don't worry; the fajitas are colourful on the inside. Point one: the recipe didn't say what to do with the rice so I just ate it on the side. Point two: I think I grilled these for longer than I was told too, but I always like to make sure my chicken is cooked through. Point three: I was scared this was going to be far too spicy for me, but actually it turned out to have a pleasant mild heat and nothing more. In fact, with the lime and everything, they were really tasty and nice; far better than my photo would suggest.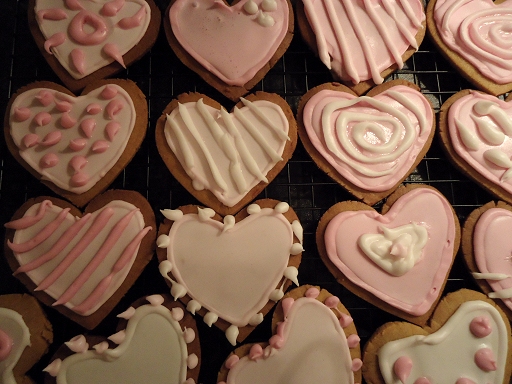 Love hearts gingerbread (recipe from Mother's Little Book of Home-Baked Treats)
Can you tell that I iced these at midnight? I think you can tell. I didn't have a heart-shaped cutter, so I made a stencil from some baking paper, which seemed to work well. The icing though; I think I made the icing for the middle too runny, because it took ages to set (you can see that it's still a little wet in the photo). In fact, I didn't wait for it to set fully because it was goddamn midnight already, so I just piped the rest of the icing on top with frequently terrifying results. Thanfully, they tasted absolutely stellar so there is that.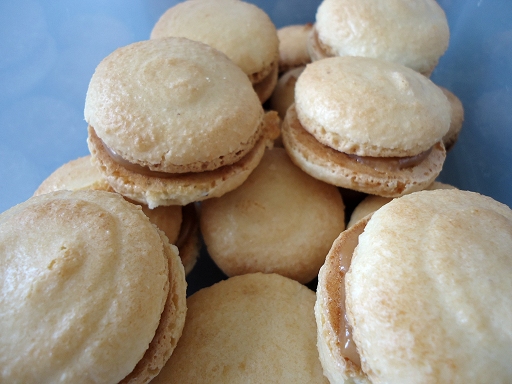 Vanilla macarons with caramel cream (recipe from I ♥ Macarons by Hisako Ogita - a birthday present from Mariya!)
Making macarons is possibly the most stressful thing ever. There was one part, about an hour and a half in, where I discovered that I hated everything in existence. Thankfully, I persevered and ended up with something tangentially related to a macaron. Now, before you tell me that these don't look too bad, let me point out that I hid all the ugly ones at the bottom, and that there were many of those. One of my problems was that I'd used a wet finger to smooth out the points on the macarons; this meant that they didn't dry very well and led to a lot of them cracking in the oven. My other problem is that they were a lot more brown and more hard and chewy than they were meant to be. This was all down to the oven temperature; I must have been using a different type of oven to the one they use in the recipe book because the cooking temperature was far too high and the cooking time was far too long for me. Oh, and I need to work out size as well. I tried to follow the size guidelines in the book and ended up with macarons that were ridiculously tiny (I hid those ones at the bottom too). So, all in all, I don't think I ended up with anything that looked, felt or tasted like a macaron, but actually they were pretty nice to eat anyway. Time for more practice I think!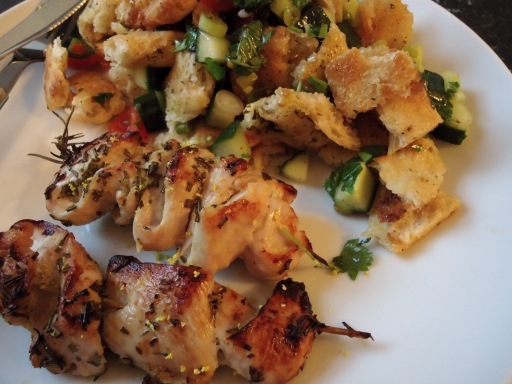 Turkey and rosemary skewers
This is one of those meals that looks better than it tastes. The taste was fine, yes, but it wasn't mind-blowing. Oh, but the smell of rosemary when you're cooking will make your whole house smell great; I bloody love the smell of rosemary. As before, I grilled these for longer than I was told to because I wanted to make sure my turkey was cooked through.
Caesar chicken pasta salad
I normally find Caesar salad a bit too rich for me and this was no exception. I'm also still not sold on the taste of anchovies. Overall, this wasn't my favourite dish in the world, but making the parmesan crumbs was fun.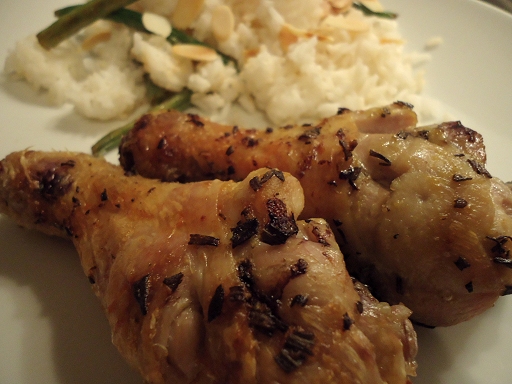 Herby chicken with lemon and almond rice
Again, I grilled these for longer than I was told to because I wanted to make sure they were cooked through. I liked the chicken; chicken legs are always nice and moist. And I get the feeling that the rice could have been really tasty if I'd managed to not burn the garlic to high heaven. How embarrassing.