Posted by

Janine

on 03 Feb 2008 in blog
Haha. So I ended up compiling a fan soundtrack for DOGS in the end, because I wanted one that badly. This isn't really a proper FST, in that I'm providing youtube links to the songs, rather than downloads, but I feel a bit funny about uploading mp3s (plus I don't actually have half the songs on my computer). But this way you get to watch the videos too if you like.
I should also say that this FST is by no means definitive. I haven't had time to go through all the music in my collection, so I'm sure there are other songs that work easily as well, but these are the ones I came up with.
Right, I'm hoping that the music in this FST will give you some feel for just how badass DOGS is. I didn't really choose any of the songs based on lyrics (although some are a happy fit), I was much more interested in picking songs that had the feel of the manga. In other words, I mostly picked songs that are good to shoot people to. It's quite fast paced, fairly rocky in places, with a few oddballs thrown in for good measure.
I've also tried to order the songs so that a) they sort of lead in to each other without it being too painful and b) there's a very slight narrative running through the whole thing.
So, without further ado, I present my take on a DOGS FST \o/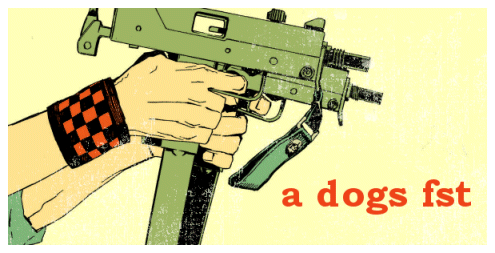 Shot Me Down - Audio Bullys and Nancy Sinatra
'Bang Bang. He shot me down.
Bang Bang. I hit the ground.'
- Lulled into a false sense of security, then BANG! you get caught in the crossfire.
I'm Waiting For the Man - The Velvet Underground
'He's never early, he's always late
First thing you learn is you always gotta wait'
- You have to go and save his ass when he doesn't show.
You Will You Won't - The Zutons
'You may you might
Your chest gets tight
You say you love day
But you come out at night'
- Walking the streets in the heaviest boots in town.
Chelsea Dagger- The Fratellis
'Well you must be a boy with bones like that
She said you got me wrong'
- Just when you thought it was about gangsters and prostitutes, it turns out to be a buddy movie.
Don't Give Up - Noisettes
'When the system's wrong you gotta tear it down let it fall to the sea bed like a rusty crown'
- Who said anything about giving up?
Puttin on the Ritz - Fred Astaire
'High hats and narrow collars
White spats and lots of dollars
Spending every dime
For a wonderful time'
- For all the pinstripe suits. It's funny how tap-dancing sounds like gunfire.
Weapon of Choice - Fat Boy Slim
'Check out my new weapon, weapon of choice'
- Nearly every Fat Boy Slim track fits this series perfectly.
Let's Dance - David Bowie
'If you say run, I'll run with you
And if you say hide, we'll hide'
- A song about angels.
This Fire - Franz Ferdinand
'I'm gonna burn this city'
- A far too obvious choice, but I couldn't leave it out.
Walk Idiot Walk - The Hives
'I got some people say it's this way
I got some people say it's that way
And then some people say there's no way
Hell, I know'
- Idiot is the key word here.
What a Wonderful World - Louis Armstrong
'I see skies of blue, clouds of white
Bright blessed days, dark sacred nights'
- A song to bleed to.
Ball and Chain - Janis Joplin
'Something grabbed a hold of me, daddy,
Felt to me, honey, like a ball and chain.
You know what I mean baby,
I said it's way too heavy now.'
- If you're going to angst, you may as well do it soulfully.
Apple Tree - Wolfmother
'Dear Sir, can you remember me?
Have a look inside your family tree'
- Rocking out. Hardcore. Go crazy.
Danger! High Voltage - Electric Six
'Danger! Danger! High Voltage!'
- Explosive situations.
Le Disko - Shiny Toy Guns
'Razor sharp, razor clean
Feel the weapon's sensation
On your back
With loaded guns'
- Girls with knives.
I Want I Want - Digitalism
'Am I not always be wanting this?'
- You can't hear the gunshots over the sound of your heartbeat.
Galvanize - Chemical Brothers
'Don't hold back'
- Make or break. You're not as cool as you look.
Non, Je Ne Regrette Rien - Edith Piaf
'Non! Rien de rien'
- At the end of the day, what are you doing this for?
2 comments
What about "I Should Be So Lucky" by the Kylester?