Posted by

Janine

on 11 Apr 2006 in blog
So, I've got many things to talk about. Firstly some boasting. I went shopping on Saturday, for the first time in ages. I got new boots, some new tops and two fabulous new belts that I really wanted to show off, but haven't managed to take a good photo of (one is bright red and amazing).
Secondly, I've been writing an essay on structure-based drug design. This means that the amount of procrastination I've been doing has upped significantly:
Before dinner yesterday I was going to write about virtual screening as a means of selecting molecules that bind with high affinity to the drug target. As it turns out, I made a wallpaper instead. My original aim was to make one of Kamui, but Tokyo Babylon came racing through in the final straight to finish ahead by a length and a half. But I do love Tokyo Babylon so, it is now the driving reason as to why I read X (but X will never be as interesting as Tokyo Babylon in my opinion).
Anyway, here it is. Take it if you like, it's 1280x800 (my stupid monitor size, I have to make all my wallpapers nowadays). The pictures came from here and the background pattern comes from here.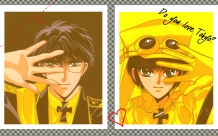 I have also been watching too many new anime series. Let's see...
Gakuen Heaven - looks very gay and also not a little boring. Hmmm, maybe it'll get interesting if I get into it? I'm not sure if I can be bothered.
Ouran High School Host Club - I like this, it's animated well and the character designs are very nice. Also, it's quite funny. Good good.
Nana - I really wasn't sure that I'd like this, at all. You see, I never really enjoyed Paradise Kiss, it may have looked nice, but I didn't like any of the characters. Luckily, Nana seems like a completely different kettle of fish in that department. All the characters seem endearing, especially cute and fluffy!Nana. Also, In my current situation and state of mind, I like stories about people moving to the big city to get a job and an apartment and all that jazz. Yes, I was nicely surprised by this one.
xxxHolic - Woooooo! Read more for episode 1 spoilers.
I feel, in a way, that I was spoiled by the movie. The TV version, while far from bad, just isn't as good as the movie. The animation is not that good and the funny character designs, while they worked really well in the movie, just looked ugly here. The redeeming point of the animation was Watanuki's spazzing. He's so funny when he spazzes! In this one aspect, I'd say that the anime adds something to the manga.
The opening scenes, with Watanuki meeting Yuuko for the first time were pretty faithful to the manga. Of course, this is my favourite part of the manga, what with all the smoke and atmosphere and Yuuko being all mysterious and seemingly off-her-face and just incredibly cool. So, the anime was a little pale in comparison, but that's to be expected I suppose (more visible smoke would have been nice though).
Sadly for me, I love canon a little too much. So the whole part with Mokona...*headdesk*
What was going on? And dear lord, why?! Black Mokona wakes up this early and without white Mokona (we don't even see white Mokona)! They've clearly managed to refrain from throwing in Himawari and Doumeki this early, so why Mokona? My only thought is that they had to wake Mokona up so they could use him in the ending sequences *headwall*
Not least, Mokona said that he had been asleep for 3 years. Only 3 years! Now, while this isn't contradicted in the manga..it...it just sits all kinds of wrong with me. The Mokonas were put to sleep without Clow there?! Or Clow was alive just three years ago?! Or maybe Clow's not dead in the xxxHolic universe?! I'm sure these things are at least a little important for the over-arching plot. You can't just make this stuff up!
Mokona aside, the other added part, with the girls, was quite good. It had a definate feel of xxxHolic to me, being all moral and creepy at the same time. Yes, I liked that part and it served nicely to darken the tone of the episode.
So overall; a little ugly and some hiccups, but mostly faithful to the feel of the manga. Not as good as the movie, but no way near as bad as Tsubasa chronicle :D