Posted by

Janine

on 21 May 2005 in blog
Yesterday, in an attempt to get some culture; I went with Mariya to the Met. I thought it was just going to be an art gallery (silly me). It was more of a museum of ancient artifacts from all over the world.
It was really interesting. Sadly, there was no way near enough time to see it all, but that means I'll just have to go back. There was an asian section, a greek section, a medieval europe section...it was great! In the egyptian section (which was huge), they had an Egyptian temple. An actual Egyptian temple! It looked very cool. I always get really amused when I think about things like that. There is an actual Egyptian temple, from Egypt, sitting in New York! Oh, the arrogance of the old days, when people would see things (say, a temple for instance) and just decide to take it for themselves!
In the British National museum they've actually got one of the statues from Easter Island. Of all things! To take a statue from Easter Island because it'll make an interesting part of your collection! I'm just astounded by the gall of people back in the day to blatantly steal things. I have no idea how they got away with it.
'Yes, don't worry old chap, we're just taking the statues of your ancestors. Don't worry, we'll be taking them back to civilisation where we can look after them. After all, queer savages like you can't really take care of things like these, I mean, look at your clothes!'
Other things of note in the museum were some reproductions of 17th/18th century rooms which were really pretty and a chanel exhibit with some gorgeous 1920s dresses. There was also a small (gold?) statue of a horse from 17th century Germany I think. It was really ornate but it was acutally clockwork so the horse would move around. And they used it for (wait for it) drinking games! The horse is hollow and would be filled with alcohol, they would then wind it up and let it run around the table, whoever it stopped in front of, had to drink to contents. Who knew statues could be so cool?!
There were also some lovely ornate gates that I had to take a photo of.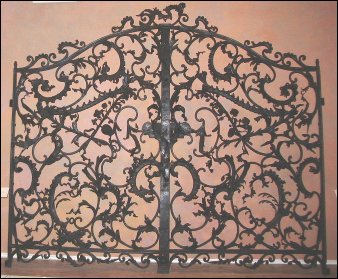 And there was an absolutely beautiful screen from a cathedral in Spain. This thing was huge! And it looked amazing, I didn't take a photo of it though...
After the museum we were going to go have dinner in an Austrian cafe, but they were having a function there so we couldn't. We went to an Indian restaurant instead, which was nice, because I haven't had Indian since I've been here and it reminded me of home. But of course, I hadn't eaten for ages and so when I did finally eat my stomach was in a mood and gave me pain, but the food was nice.
Today I decided to purge myself from culture and by myself a pie. At the grocery store it was really busy, I didn't want to wait so I went to an express 12 items or less lane, even though I had 13 items! I really stuck it to the man there! *is a rebel*