Posted by

Janine

on 10 Dec 2006 in blog
I went to Bristol with James to visit Steve this weekend. I had a grand old time. Here's a quick run-down of what we did:
- Ate sushi
- Went on 0 (zero) boats
- Went to a Christmas party
- Walked around in the freezing cold (why of why didn't I take my scarf?)
- Watched Derek Acorah on the tele
- Saw a girl get stuck in the flaps at the train station
- Danced around Steve's room in our coats
- Saw Clifford the friendly bridge (see below)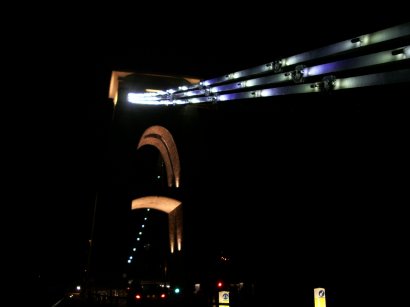 I also discovered what has to be my favourite song in the whole world at this moment in time. The song is Whoo! Alright-Yeah...Uh Huh by The Rapture. It is an awesome tune; it makes me feel kinda tingly on the inside.
People don't dance no more
They just stand there like this
They cross their arms and stare you down
And drink and moan and diss
You can listen to the song over at The Rapture's Myspace page. Go! Go listen right now!!!
2 comments
Diss makes much more sense though. Otherwise it would kinda be; they're crossing their arms and staring you down, and pissing all over the floor LOOK AT THEM GO!
Splish Splash
I always thought it was 'drink and moan and piss', but just checked the lyrics and you're quite right. oh well. diss isn't quite as good though.