Posted by

Janine

on 03 Jan 2006 in blog
Well, I'm back in Bath now. There's nothing between me and the looming threat of exams. But that's by the by, it's nice to be back, almost everyone's here now (including James who doesn't even live here yet!)
Yesterday Steve encouraged me to change my wallpaper (I'd had my old one for ages). I used one of my newish photos that I took. I was quite pleased with the result so I'm sharing it, feel free to take it if you want.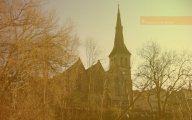 1280 x 800
1024 x 768
I borrowed plenty of musics from Steve yesterday, they include:
Some songs by the Arctic Monkeys because they are awesome.
Mint Royale because I've really fancied listening to them recently.
And Jose Gonzalez, which is really really pretty.