Oh Mr. Lindt; I do love you so
Posted by

Janine

on 28 May 2005 in blog
I went shopping today and actually bought something *gasp* Nothing too interesting, just a white skirt from GAP. I am pleased to say that I'm finally beginning to understand the clothing size system over here (hopefully I'll realise soon that there's no point in trying on a size 4 because it's too big...but it sounds so small!)
I also bought some bed sheets from the most disinterested looking lady in Macy's. Maybe she had just had a premonition that she was going to win the lottery and that she needn't bother any more at work, or maybe she just hates her job, herself and her life, who knows?!
Anyway anyway, I went along to the Lindt shop on 5th avenue. And I was so happy to find out that they sold the truffles that I like, and that they weren't too expensive. So I bought a big bag :D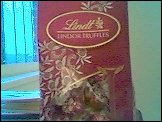 And I was informed by the lady that served me, that I could get a free bar of chocolate, which I did! The lady at the Lindt shop was so nice and friendly, she should go to Macy's and give the other lady some pointers. But I suppose it is a lot easier to be cheerful if you spend your life surrounded by chocolate, rather than towels (chocolate towels on the other hand, I've no idea how that would make one feel).
I think that now I have these chocolates, my life is complete. Best chocolates in the world. Seriously.
You see, Hershey's isn't too bad (it's only a little nasty) and you can get Cadbury's here too, but they just pale in comparison to these truffles. If you have never had them before, I urge you to rectify that. I have only had one so far today, but it has put me in a wonderful frame of mind. Now I like chocolate, but I'm not normally an 'OMG I love chocolate it's the best thing ever!!!!' kind of person, but these truffles are just like pure endorphines wrapped in shiney paper.
Linda phoned me this morning. And that made me happy too, I don't think I've spoken to her since I got here, and she's been living in France since almost forever. I can't wait until October when we all get to live together again in a big fun house (possibly with a tumble dryer, but without Pat Sharp).
Now if you'll excuse me, I've got some euphoria to be eating. *rolls around* ^___^