Posted by

Janine

on 25 Feb 2007 in blog
Hey!!!!
Let's have another page of Clematis; hey, why not.
Sooooooo. I went to Turnmills last night with Steve and James to see MSTRKRFT. It was pretty goddamn awesome. Seeing as how I am used to Bath, where the closest thing they have to a nightclub is Caddies, or Babs; Turnmills was a bit of a shock to the system. It had five different rooms, and the price to get in was around five times as much as I'd like to pay. Yes! That's right! 5 rooms, for the price of five? Wow.
Standing in the queue there was a guy furtively asking people if they wanted any Es. Man, is this the big city or what? Of course, I'm far too poor and sensible to buy some Es (or whizz for that matter), but I felt quite cosmopolitan for being asked.
The music was a little too hardcore for me, but you could dance to it alright. And when MSTRKRFT came on it was super. I was quite starstruck. Everyone was dancing a-go-go, and when they played Easy Love the whole room cheered. I only wish that they had played some more of their remixes before we left. I actually prefer their remixes to their own tunes; let me explain in algebraic terms:
Handclaps + cowbell + a good bass-line = an awesome MSTRKRFT tune.
Sadly, we were in the MSTRKRFT room for most of the time so we missed DJ sets by Hot Chip, the Klaxons and Gossip. Shoot!
To summarise, I will describe how awesome MSTRKRFT were by using the means of poorly executed computer graphics; it was something like this: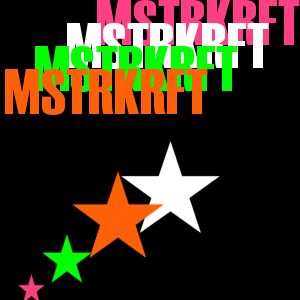 In other news we went to Spitalfields market today and saw lots of cool art and bags and T-shirts and stuff. I didn't buy anything, but I did have a burrito, so it kind of evens out.
Also, oh god, I'm so tired today.