Posted by

Janine

on 27 Feb 2008 in blog
So I finally watched Gundam00 episode 20. Hooray.
Good things about this episode:
- Ali makes an awesome bad guy. Kinue should really know better than to get in cars with strange men.
- Patrick asks his commander out for dinner, and she says yes! Way to go Patrick! (This is obviously the real plot of Gundam00, and all that stuff about war is just a sidestory.) I'm shocked though, I really did think that Caty (I don't know how to spell her name!) thought Patrick was a prime idiot (because, well, he is a prime idiot). She must be more laid-back than I thought; either that or she wants a free dinner.
Then some other stuff about Trinity, GN drives, Ribbons (ridiculous name) having shiny eyes like Tieria (What are you Tieria? What are you?), and Veda.
Also \o/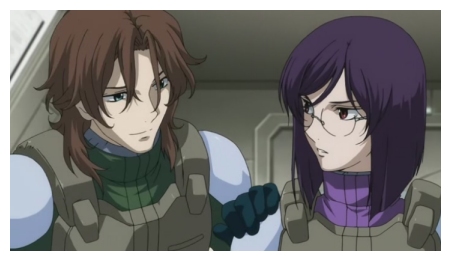 Lockon and Tieria have a moment and Tieria smiles again. I like to think that Setsuna was sharing in the team bonding as well, but he was doing it so quietly that I couldn't notice.
And poor Allelujah missed out!
Allelujah: You guys have been team bonding without me, haven't you?
Lockon: Maybe
Allelujah: *sadface*
But really, the miesters can't get too close or one of them will have to die. In fact, I'm sure one of them, if not more, is going to die anyway, but I don't want to think about it because it will make me sad.
Oh yeah, work! OMG, I've got to go do some work! Laters.