Posted by

Janine

on 11 Jul 2008 in blog
Because the Meisters' second season outfits are just so fabulous, I felt compelled to draw this (click the image for bigger).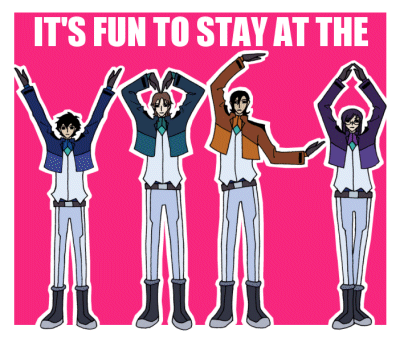 And if you don't get the reference (and if so, goodness, where have you been all your life?) then this handy video should explain all *dances along*
But now I'm in turmoil trying to assign each Meister to a member of the Village People. Here's what I've got so far:
Tieria - Indian Chief (No question. It's the feathers.)
Allelujah - Policeman (High boots and tight trousers anyone?)
Lockon - Cowboy (Lockon is always the cowboy.)
Setsuna - Gundam (But Setsuna, there isn't a Gundam in the Village People! Setsuna: I am Gundam >:I OK, Setsuna, OK. Whatever you want.)
And for the remaining Village People:
Contruction worker - Lichtendahl
Army guy - Lasse
Guy in leathers - Aeolia Schenberg ???!!! (You know it's true.)
In other news, Gundam00 has been the gift that just keeps on giving this week. Not only do we finally find out about the second season, but we also find out that in the official high school AU audio drama (oh God, what?), Tieria decides to infiltrate the school by dressing up as a schoolgirl. YOU HEARD ME. That's OFFICIAL schoolgirl Tieria right there. HAHAHAHAHAHA. I hope this drama CD comes with illustrations!