I AM NOT DEAD
posted on Sep 6, 2008 by
Janine
in
blog
Sorry for the absence guys. I have been busy piecing my life back together after the diss. This means that there has been lots of:
- cleaning
- sorting
- organising
- 'Janine' time (aka bumming around and not doing much of anything)
Also, I have been reading Richard Dawkins. I feel like a bit of a loser for choosing to buy it, because I already know that I'm going to agree with most of the things it says. But if religious people can own lots of books about how religion is great and how they are right, then I figure I can own at least one book that validates my own views.
Maybe I'll post more on the subject when I've finished reading the book. I'm actually a pretty staunch atheist, but I rarely talk about it here because a) the internets is no place for srs bsns, b) I dislike talking about it with religious people because I don't like upsetting anyone, and c) I don't want to get into any arguments about it with religious people because I know I'm not going to be able to win >_>
I also bought Tom Jones because it is old-school and the blurb on the back sounded quite racy >_>
In other news, the good old English summertime has been going well.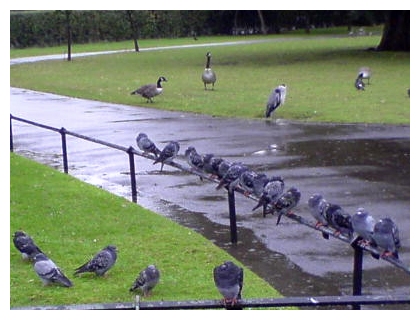 The pigeons don't like it. See also: the bedraggled heron in the background; he doesn't like it either. (The geese, however, are nonplussed.)
The good thing about going to the park in the rain is that, while you get wet trousers, you do also get the park to yourself (and if you have ever been to a central London park when it's been sunny, you'll know that this is something to be savoured).