Posted by

Janine

on 24 May 2021 in blog
Hi all. Happy May! It's cold and wet here at the moment, so seems like the start to a normal British summer. My cooking adventures have been oddly successful recently, with only one minor disaster. And I got my first covid vaccine. Good news all round!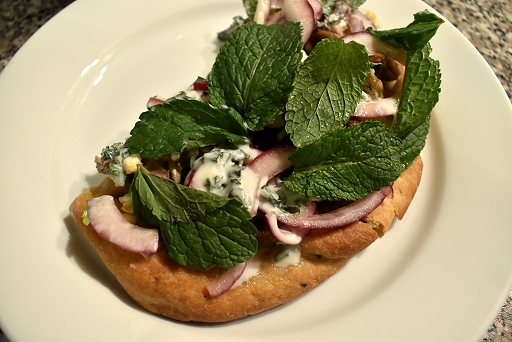 Leftover lamb and spiced aubergine flatbreads
This was utterly delicious. I didn't have any leftover lamb, so I went ahead and roasted a joint of lamb the day before to make leftovers specially. I'm so glad I did. The combination of the mint, pickled onions, yoghurt, garlic, lamb and feta was amazing. The only slight difficulty was grilling the aubergine. My grill is too shallow to allow for a whole aubergine, so I had to cut mine in half to fit it in; it still seemed to grill nicely though. I would recommend not cooking the naan bread for quite so long in the oven, because mine came out a bit too crispy and chewy. My other recommendation is to not follow the portion size; half a naan bread is not enough for one person, unless you have couscous on the side like I did. These are all minor gripes. This dish was super good.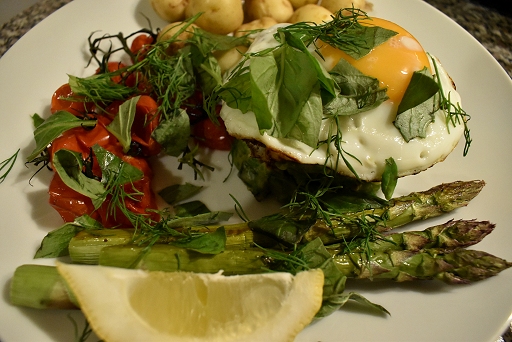 Spring pea and basil fritters with fried eggs
This was a fair amount of work to make, because everything is cooked separately, yet simultaneously. I ended up using 3 pans (4 if you include the one for my boiled potatoes, which aren't in the recipe, but I can't have dinner without carbs) and 2 baking pans. The end result is kinda worth it, because it's very tasty, but it's not something I'd have the energy to make regularly. I thought I wouldn't like the taste of the fritters, because I don't like peas, but the spring onions and basil in the fritters balanced out the sweetness from the peas very well. And having the egg yolk ooze all over them was very nice. My only complaint was that the fritters weren't crispy after they'd been kept warm in the oven and were a bit gummy; I have no idea if this is due to the recipe or due to the fact that my baking powder is a bit too old. Either way, the gumminess wasn't a big deal. I enjoyed eating it a lot!
Baked chorizo and spring greens risotto
I love risotto. But this, alas, is not risotto; it's some kind of lemony rice stew. I'd never made a risotto in the oven before and going from this, I might not ever try again. To be fair, I think it would have worked if the quantities had been right. But this recipe asks for 1.5 litres of liquid to cook only 250g of rice. That's far too much. With that much, you don't get creamy rice, you get the soupy rice in my picture. And cooking it in the oven doesn't give you the control that you'd have on the hob. I don't have a pan that can transfer from the hob to the oven, so I fried my ingredients in a frying pan, then put them in an oven dish to go in the oven. This was perhaps an error, because the oven dish was cold, meaning my rice wasn't anywhere near as cooked as it should have been when the 40 minutes were up. I was also alarmed after 40 minutes because the rice was still really soupy. I didn't know at the time that this was a quantity issue, and so I thought my rice needed much longer to cook to absorb all that liquid. I left my rice in for another 15 minutes, by which point it was far too mushy for a risotto and still really wet. You just wouldn't overcook the rice that much if you were doing it on the hob (and knew what you were doing, which I clearly didn't when it came to the oven). If this dish had actually come out risotto-textured, would I have called it a risotto? Perhaps not. The zingy lemon went well with the chorizo, but where was the cheese? The dish needed to be much richer and creamier to be a risotto; then again, if my sauce was reduced and thicker then maybe the creaminess would have appeared? Would it? As a final note, I couldn't find the frozen leeks or frozen chorizo that the recipe calls for, so I just used fresh; I don't think that affected the recipe at all and, to be honest, is only a minor point after all the other crimes that have been committed here.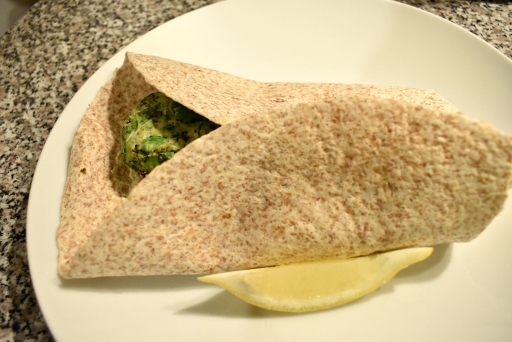 Falafel wraps with beetroot and apple slaw
Man, this is such a boring photo for what is a very flavoursome and brightly-coloured meal! If you looked inside the wrap you would have seen that the falafel (made with peas as well as chickpeas) were bright green and the slaw was deep purple. I thought the whole thing might be too sweet from the peas and the beetroot and the apples, but it wasn't. It was my first time making my own falafel and they tasted savoury and exactly how I expect falafel to taste. The slaw was actually really zingy from the apple (which wasn't too sweet) and went really well with the copious amounts of houmous in the wrap. Plus, dishes containing coriander can never go wrong in my opinion. My only issue is that the recipe is marketed as lunch, which means that the portion size was too small when I tried to eat it for dinner. I'd recommend two wraps per person to fill you up. Other than that, it was delicious! Just, one thing to keep in mind: from all the beetroot grating, and the trying to keep the wrap together while eating it, expect to get very messy; expect, essentially, to look like you've just murdered someone (not that I'm saying this is a problem).
6 comments
Well, of course, a FOOD POST!
And, of course, more beautiful recipe photos.
The lamb naan looks professionally made, as usual, but I've never eaten lamb! I will take your word for its deliciousness, because I have it from reliable authorities that lambs are baby sheep.
The vegetable fritters with eggs and roasted things: Also restaurant-quality. Cannot even imagine how this would taste! You can't eat soft eggs over here, either, unless you want to take a chance on being hospitalized with food poisoning. It's very sad for all Americans everywhere, and we're mad about it all the time. (No, we really are. We are a culture forced to constantly overcook its eggs. That takes a toll.)
Chorizo and rice soup! I know what chorizo is, finally! Can't really imagine how this would taste, either, nor do I understand how a risotto could be achieved in an oven. Clearly this is Tesco messing with your vibe again. Everything is their fault.
Again, a recipe that passeth all understanding. I don't even eat whole wheat tortillas, let alone make my own falafel. Beets? "Houmous"? I am confused, but delighted. I'm glad this was yummy. It looks a little like a shipping envelope in the photo, and for some reason that makes me really happy.
Lastly, can there be anything as wonderful as a FOOD POST? I say: No. And no again!
You've not had lamb! Is lamb not that common in the US? Or is it more that you don't eat it personally? I can easily understand why someone wouldn't want to eat a cute little baa lamb!
I have been eating lamb since I was a little kid, so the cute associations aren't really ones that come up for me. It's actually my favourite meat. It tastes like beef but has a bit more flavour (slightly iron-y maybe?) and is richer and more greasy. It's also super expensive so I eat it only about five times a year.
You can't eat soft eggs over here, either, unless you want to take a chance on being hospitalized with food poisoning.
That's so sad. Does no-one ever eat soft-boiled eggs? I wouldn't say that our eggs in the UK are super safe. There's certainly no guarantee that you won't get food poisoning from them. I know that pregnant women are always advised to never eat the yolk runny. But runny yolks are so nice that I think most non-pregnant people just go ahead and eat them that way anyway. (I just started looking up the difference between UK and US eggs and this is so complicated I am going to close the tab and stop.)
Can't really imagine how this would taste, either, nor do I understand how a risotto could be achieved in an oven.
Please do not try to imagine it. It is sadness made flesh.
It looks a little like a shipping envelope in the photo, and for some reason that makes me really happy.
This description is cracking me up. I love it.
Comment from:
Mariya Sklyar
Visitor
I'd say Chinkiang vinegar is less aggressive / acidic than white vinegar and has a malty, slightly sweet taste with more umami. You can probably sub in malted vinegar and just play with the proportions if you can't find the other one but an Asian grocery store should carry it.
Comment from:
Mariya Sklyar
Visitor
Yay for more food posts!The lamb and spiced aubergine dish sounds excellent. If you like aubergine, I would really recommend this dish from Every Grain of Rice. It does require two special ingredients but you can use them in other dishes so I think it's a good investment. I hope you'll try it!
- 2 aubergine
- 2 tsp light soy sauce (or regular soy sauce)
- 2 tsp Chinkiang vinegar (no substitutions for this one but it's worth seeking, I'm sure a store in Chinatown would have it or there's always Amazon)
- 2 tbsp chilli oil with its sediment (Laoganma is the brand that you want - it has a red label and a lady's face on it). You could probably sub in red pepper flakes in a pinch.
- 1-2 tsp finely chopped garlic, to taste
- 1/2 tsp sesame seeds (I used both black and white but either one will work)
- 2 tbsp finely sliced spring onion greens (or less, i go with however much spring onion I have on hand) for topping
- a bit of salt, if needed
- Prick the aubergine with a firm several times (pretending that you're stabbing someone who was rude to you is especially effective).
- Roast the aubergine in the oven until the skin is charred. I don't time it tbh, I just leave it in until it looks like coal, though I might be overdoing it. It can take up to an hour for large aubergines.
- Once the aubergine is cool enough to handle, remove the flesh, mash it in the bowl with all the other ingredients, top with the onions and eat. You can halve the recipe if 2 aubergines feel like too much food.
Ooh. That recipe sounds excellent. Thanks for sharing!
(pretending that you're stabbing someone who was rude to you is especially effective)
Useful instruction for a bad day!
What does Chinkiang vinegar taste like? Is it different from normal vinegar?