Posted by

Janine

on 12 Jun 2022 in blog
I did some big bakes last weekend and I'm still buzzing from it. The sort of thing where you spend so long cooking and then cleaning in the kitchen that you tell yourself "Never again". Predictably, a week later I'm all "I want to do another one".
Guys, here's the thing. I have now been making these food posts for 10 whole years. I'm astounded! What happened with a one-off, "hay, maybe I should try baking a cake for the 2012 Queen's Jubilee," has turned into trying out new recipes regularly and sharing the results with you all. (I'm so glad I could make a 2022 Jubilee bake to continue the trend.) And, tell you what, I have loved every minute of it. Even the disasters. (Especially the disasters?)
10 years ago, before I got into this, I used to cook very regularly, but they were mostly staple meals that had been in my repertoire for a while. I was always intrigued by bakes and recipes, and had flights of fancy that I might one day make something exciting, but I never took that step. And, honestly, I'm surprised it took me so long before I did. I come from an entire family of foodies; everyone loves cooking delicious things, and I had always loved loved watching food shows and reading recipe books and trying new foods at restaurants. But, like, following new recipes at home is a faff; you have to buy special ingredients and it takes time and thought, so I had never done it often.
It turns out that all I needed to really get going was some initial inspiration (thank you 2012 Jubilee cake) followed by a good routine. I love a routine, so incorporating new recipes into my daily life really was the way to go. And once I started, I couldn't stop. It's so addictive! There have been times where I've been busy and not able to try cooking new things and I find that I really yearn for it after a while. I love the whole process of cooking and how it can distract me from whatever else might be going on. And I love that it comes with this huge payoff; I will happily put in lots of effort if it gives me something to eat afterwards. The eating is maybe the best part. Getting to try new dishes regularly is so delightful. Yes, some end up disgusting, but more often than not it's really tasty. I knew I was onto a winner when restaurant food started to occasionally be boring for me. When you bite into a dish you have paid for and think "man, I've made stuff better than this at home"; that's a feeling, let me tell you.
To be fair, there are still many many many restaurant dishes that are better than anything I could make, but it's so exciting to know that the next dish I make has the potential to be super tasty.
I am rambling. I have no point other to say that this 10 years has gone by so fast. I'm so glad to have picked up such an enjoyable and fulfilling hobby. Long may it continue!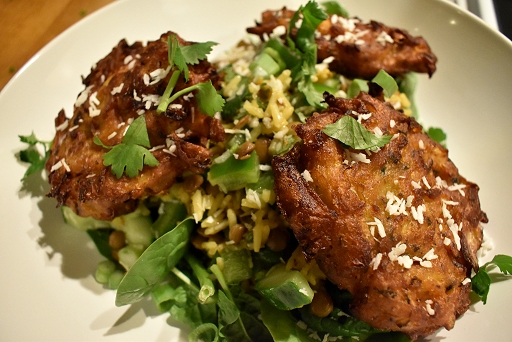 Indian rice salad with onion bhajis
This is very much an anglicised dish. Recipe, are you going to tell me which part of Indian cuisine it comes from? Of course not. Still, I can't complain. As someone with an English palate, the flavours work for me. Anything topped with three onion bhajis is going to be delicious. I'm not normally a huge fan of microwave rice, but it makes this dish so easy. And making a salad dressing out of mango chutney is inspired. Delicious, easy and filling! My only complaint is: why are we seeding the cucumbers? What's the point? The seeds are not really going to make the salad more soggy, so why waste them?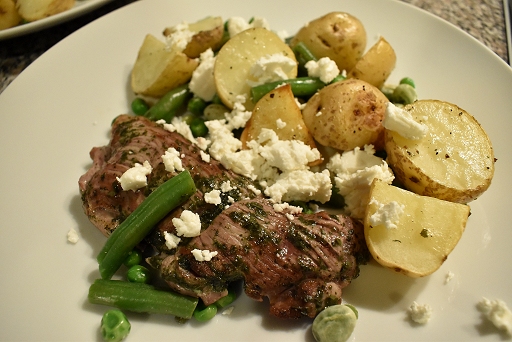 Lamb, mint and spring veg traybake
This dish sounds nice but it was very disappointing. Something went wrong with the recipe somewhere. I normally like my lamb well done, but I understand that most people prefer it pink in the middle. So, when the recipe said to sear the lamb then put it in the oven for 10 minutes only, I was sceptical but willing to give it the benefit of the doubt. The 10 minutes would have been fine for the lamb if the oven had been hot. But it was not! Halfway through cooking, you chuck a load of frozen beans in the oven, which lower the temperature considerably. You need to add an extra 10 minutes to the cooking time to allow the beans to defrost and get the oven back up to temperature again. Basically, I cooked this dish for the time stated and I ended up with lamb which was even more pink than most people enjoy, hard potatoes and beans which were still cold in the middle. Not pleasant.
Pea and potato stew with crispy salami
This is one of those dishes that sounds to me like it is going to be completely boring, then I make it and am surprised by how nice it is. I love when that happens, and it's entirely the reason I am willing to try dishes that don't sound good on paper. Now, I don't like peas and I find stewed potatoes to be pretty boring, so I did not have high hopes here. But I was wrong! All the ingredients in the stock really work (I should add that I chose a beef stock cube to make my stock); you end up with a stock that is nice and savoury with an excellent zing from the lemon juice, which lifts the dish. The peas are sweet but not too sweet, and the salty crispy salami on top brings everything together. It looks great and tastes great.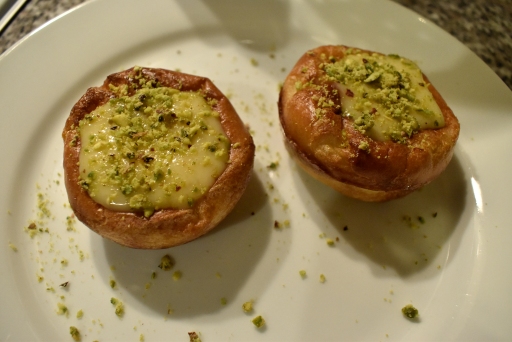 Yorkshire pudding with mango curd (recipe from "The Groundnut Cookbook" by Duval Timothy, Jacob Fodio Todd and Folayemi Brown)
This sounds deceptively simple and kinda weird. I know that sweet Yorkshire puddings are a thing some people have, but I'd never tried them myself. And even though some people eat them sweet, I don't think mango curd is a normal accompaniment. As for the recipe being simple: Yorkshire puddings are easy to make, right? I've made them several times before. What can go wrong? Guys, I was not factoring in the mango curd. Making that was an experience. I've never made a curd before, so I didn't have anything to go on. But before I even got to the curd-making step, the recipe says to make some mango purée. To make mango purée, you put fresh mango in a blender (I don't have one of those, so used a food processor) then you strain it through a sieve and throw away the fibrous parts left behind. This would probably be easy enough, if you didn't accidentally buy THE LEAST RIPE MANGO KNOWN TO MAN. My God. This mango crunched like an apple! It was so wrong. But I wanted to make this dish on the same day I bought the ingredients, so there wasn't time to let the mango ripen. I persevered, blending the bits of mango that crunched the least and then spending about an hour or more trying to strain them through a sieve. What resulted was more of a juice than a purée (although there was a little pulp in it) but it tasted of mango, while being slightly sharp (which, to be honest, I liked). Then to make the curd, you add lime juice, sugar and an egg yolk and heat it in a bain marie. The recipe says merely to cook the curd for 12 minutes and says nothing about what kind of consistency you should expect when those 12 minutes are up. So I dutifully cooked my curd and after 12 minutes still found it very liquid. I was assuming the egg yolk would thicken it, like when making a custard. So I kept cooking for another 8 minutes and still the consistency was the same. Remembering how I had madly over-cooked my crème pâtissière a few months ago, I decided not to be overzealous here and took it off the heat. I also figured that maybe if my mango purée was pretty liquid, that might affect the consistency. So, after taking it off the heat you whisk in butter and leave it to cool. I am happy to say that my curd did thicken in the fridge! I think the butter was doing the heavy lifting when it comes to the thickening, rather than the egg yolk. It wasn't a super-thick curd, but looked similar to the picture on the recipe, which makes me think that maybe the curd was never meant to thicken in the bain marie and that's why the recipe didn't mention anything about waiting for it to thicken in that step. But if the recipe had added a little line like "don't worry; it's not meant to thicken at this stage" that would have saved me a lot of worry. To be honest, from previous recipes in this book, I can tell that the book hasn't been tested or edited that much. See also: the Yorkshire puddings which absolutely were not cooked after the 18 minutes I was told to cook them for; they were all pale and sad. My oven does get a bit inaccurate at higher temperatures, but I think the recipe could be altered to give a time span instead of just "18 minutes". I ended up cooking my Yorkshire puddings for about 10 minutes longer than stated. They didn't rise much, and I don't know if that's due to the sugar in the batter or the fact that I kept having to open the oven door to check on them but, again, they looked kinda like the picture in the book. When I complain here, though, I complain with love: these little Yorkshire puddings, with their mango and lime curd and pistachio and cardamom crumb, were absolutely delicious! The curd was so sweet and punchy! It was the sort of thing that makes you say "wow" when you first try it. And the curd goes so well with the Yorkshires and the cardamom/pistachio flavours. In fact, flavour-wise, it tasted a lot like the mango, cardamom, pistachio cake I made a couple of years ago; it's a combination that works well. Eating those flavours in Yorkshire pudding format was definitely a weird experience, but one I'd be happy to recreate. Truly lovely! As a bonus, there was some curd left over, which was excellent spread on crumpets the next morning.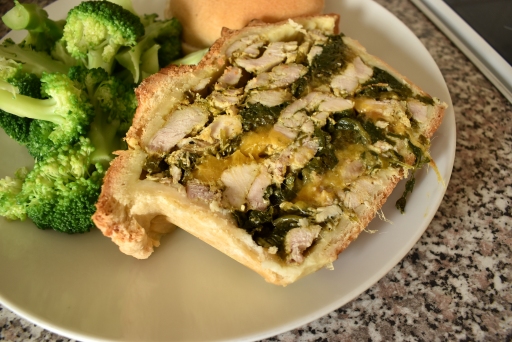 Coronation chicken pie
Here it is, my 10 year anniversary Jubilee bake! This pie was a beast, but I'm so happy with the way it turned out. Look at those layers! Making it was very much a marathon. You have to make three fillings: curry chicken, mango and lime, and spinach. Then you have to line a tin with pastry (shop-bought, so at least there wasn't the terror of making your own pastry), carefully layer in the fillings while packing them down, cover, decorate, bake, chill overnight(!) then slice. I also marinated the chicken overnight before making the curry chicken filling so, all told, the pie took me three days to make. That's a long time to live with mid-cooking anxiety. And every step comes with so much washing up! Still, everything went mostly smoothly. I accidentally didn't buy enough tinned mango, so the pie was ever so slightly lacking in that, and I couldn't buy pre-rolled pastry, so the pastry may have been thicker than intended (hence why there was still a little raw pastry inside the pie). Trying to fit all the filling in the pie wasn't easy (my loaf tin was overflowing) and then crimping the top is tricky when you don't have much experience of crimping. Oh, and taking the cooked and chilled pie out of the tin was a challenge. You are meant to line the tin with baking paper so you can use the paper to lift the pie out of the tin. My pie was so heavy that the baking paper broke in my hands! In the end, I was able to use what was left of the paper and a knife to ease the pie out of the tin. But no wonder it didn't want to come out; this pie weighed as much as a small dog! (Good lord.) Weight aside, I was so happy to see that after all that work I had something which looked like a pie and which retained its layers perfectly when cut. Taste-wise, the pie doesn't quite deliver as much as some of the other recipes in this post. It's nice but (as I probably should have expected with coronation chicken) the curry flavour is very mild. The mango and spinach went well with it though, and the nigella seeds on the top were a really nice addition. So, not quite worth the hype, but I'm still very proud of it.
2 comments
Good work, Janine! Obviously my 10 year highlight is the shallot grating. Although sounds like the mango came close!
Thank you for coming with me on this ten year journey!
The shallot grating is not the proudest moment in my life. But we live and learn. We live and learn.