posted on Jan 7, 2007 by
Janine
in
blog
Today I went traipsing through the pouring rain to buy myself a frame for the batik that Mariya so kindly made me. Take a look: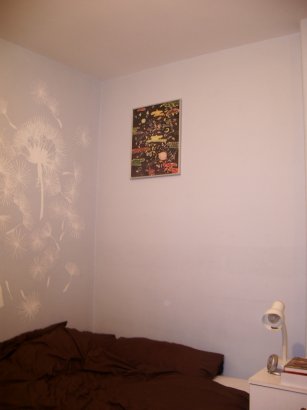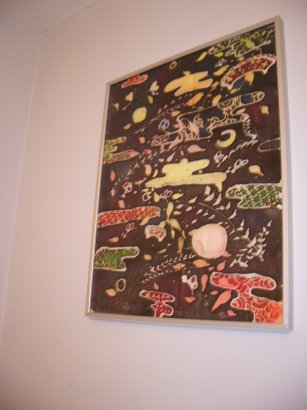 My wall doesn't look so empty any more! I couldn't place the frame very centrally on my wall because I'm not alowed to put any nails in, so I had to work with the nails that are already in the wall. It's so pretty (the batik, I mean, not the frame)! It's based on Kimono patterns and xxxHolic; the rich colours are certainly very Yuuko, as are the butterflies now I come to think of it. Anway, what I mean to say is THANK YOU MARIYA <3
I had wanted a white frame, but this was the lightest colour (and weight) that I could find in Habitat; it was either this or beech or black (I don't like black outlines on pictures at the moment, I don't know why, I think it may be fashion). Also, annoyingly, Habitat only have paper bags, which is cool and all (and they can be recycled), but completely useless in heavy rain. By the time I'd reached the tube station (maybe 3 minutes walk from the shop) the bag had fallen apart! I had to carry it the rest of the way home under my arm.
I also went to Waterstones and bought myself a copy of Master and Margarita. The girls at the till were very enthusiastic about the book when I was buying it, so it bodes well that this will be a good read.
I'm watching The Sixth Sense at the moment. I've never seen it before. It's quite scary. I can't help thinking that this is what it must have been like for a poor young Watanuki, only without anybody to help him.