posted on Oct 4, 2007 by
Janine
in
blog
I've just had my first lesson in reading archives, or palaeography. It is really difficult. Seriously, I think I find hiragana easier to read than this. It's quite fun though, and I get to look at old stuff, which is what I wanted to do.
And, here's an interesting thing. Did you know that the β as used by Germans to mean ss, as in Straβe/Strasse, is not actually a beta, but is in fact a contraction of the old way of writing a double s (with a large f-like s, followed by a little s)? See below, for a badly written example: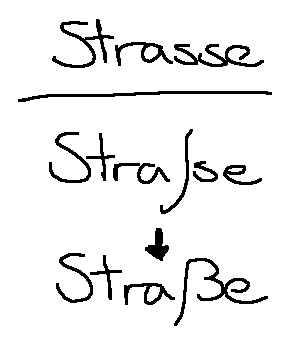 But what I was thinking about after the class, was how on Earth are people going to cope, who are learning to read some of the stuff created today? I'm not talking about handwriting here, I'm talking about internet-speak. If any blog entries survive, they're going to be completely incomprehensible! OMG and WTF might be easy enough to deduce, but what about ROTFLMAO? Or IAWTC? Or God help them if they come across something like roflcopters or lolerskates. Seriously. It's a good job that none of this stuff is really relevant to society.
...I'm joking! I'm joking!