posted on Nov 15, 2008 by
Janine
in
blog
I finally got around to fixing my camera. It turns out that the best way to fix my camera was to CHANGE THE BATTERIES. Turns out, the old batteries had run out. No, wait, I'm not that stupid, hear me out; the old batteries were meant to be rechargeable but they'd stopped recharging. So, I just put in some common-as-muck non-rechargeable batteries and Bob's your uncle.
The good thing about having a working camera is that I am now able to show you a picture of my new coat, which is currently my favourite thing in my life right now.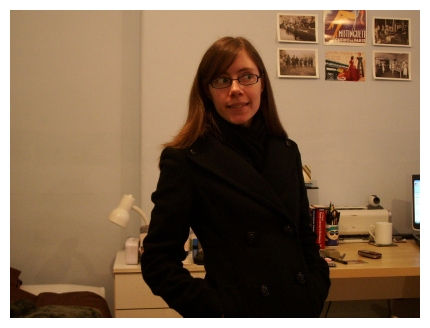 I spend my morning commute on the tube playing "whose coat is better than my coat?" It's a tough game; there are a lot of good coats out there on those commuters. Sadly, when the tube is too crowded I have to switch to a different game, which seems to be "which random person am I going to end up spooning today?" NOT COOL.
I went to get myself some euros today ready for my trip to go see Deborah in Ireland next weekend. I'm pretty excited. I think my subconscious thinks it's going to see a Lockon when it's there. You're wrong subconscious. Clearly Lockon lives in space now. But there might be a lot of nice accents to listen to anyway.