posted on Dec 28, 2010 by
Janine
in
blog
I hope you all had a nice Christmas!
I had a jolly nice time myself. There was eating (of course) and watching Christmas TV (with varying levels of interest), plus presents and visiting relatives :D We played Trivial pursuit at my grandparent's house, and there was just the right amount of people (and just the right amount of not taking it too seriously) to make it fun. I haven't seen either of my grandparents that happy since my granddad had to move into a home, so it was really nice.
We also watched two films that I enjoyed immensely. One was Inception and the other was Moon. Both films are ones that make you think hard. Blink and you'll miss an important plot point D:
In my opinion, Inception lives up to the hype that's around. It's a movie about dreams and sharing dreams (no wonder that I like it), and all the fun that that entails. It has a very retro 50s/60s feel to it too, with tailored clothing and slicked-back hair, which I found rather charming.
Moon is a sci-fi that, on the surface of it, has a lot in common with 2001: A Space Odyssey. It differs in some key respects though, which I won't go into, otherwise I'd be telling you the whole plot.
Present-wise, I got a lot of things that I really wanted, but had neglected to tell anyone about, so I think I was very lucky there. This includes, a laundry bag, new pyjamas, and a handbag: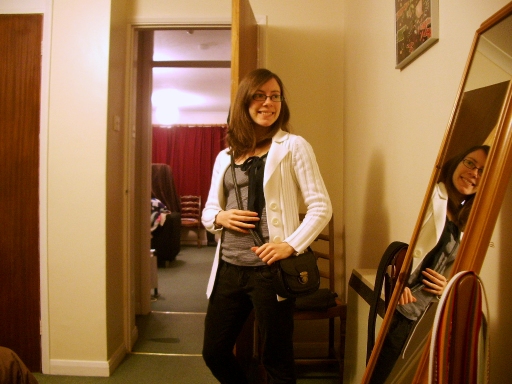 (That's my 'Argh! The timer's going! Get into position!' face.) I've wanted a handbag like this for ages ♥
Oh, and the laundry bag came with an apron!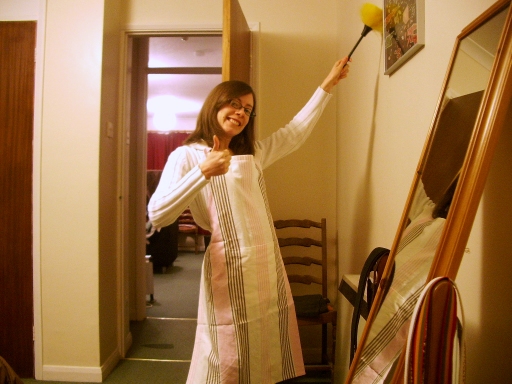 Look how much I love dusting!
In other present news, I got a boxset of The Thick of It :D I've already watched the first series in the past few days, and now I'm going to try to marathon the rest of it if I can. (Apologies in advance if I suddenly get more sweary.)