Let's hope it's a good one
Posted by

Janine

on 03 Jan 2021 in blog
It's time for the obligatory post-Christmas post. How are you all? I hope you're doing as well as can be.
The beginning of 2021 is... well, it's very different to the beginning of 2020, that's for sure. Lots of people were glad to burn their bridges with 2020 and to welcome in 2021 and I'm not so sure I feel the same. For one thing, 2020 wasn't all doom and gloom, so I wouldn't like to lose everything that it gave us. The realisation of how easy it is to keep in touch with people through video calls is one thing I'm not going to forget in a hurry. And for another, I'm not going to welcome in 2021 until it has proved itself to me. As I've said to people, I'm not going to count my chickens until I see some chickens.
Christmas 2020 was weird, and like everything, there were last-minute changes to make it weirder. I had planned to go visit my parents, but a few days before Christmas London was plunged into Tier 4 restrictions due to a new covid variant. And so, like many people, I suddenly faced the prospect of my first Christmas alone. (As strange as it felt, I'm glad I didn't go visit my parents. The virus is surging right now, and I would have felt bad if I'd done anything to help speed it along.)
So that week, I went on my normal supermarket trip hoping to score some ingredients for Christmas dinner and some Christmas decorations, because I had nothing in. Alas, everyone was doing the same thing, with some added panic-buying on top because there was a temporary halt to vehicles leaving the country. That was probably my least favourite shopping trip from the whole pandemic, because not only was I faced with bare shelves, the whole place was full of stressed people, and trying to keep distant from them was almost impossible.
Still, I was able to buy potatoes and beef and cabbage and flour, and I was able to put those together with some leftover bits and pieces that I had to make a very passable Christmas dinner. We're talking roast beef; roast potatoes; roast parsnips; boiled cabbage (don't @ me, I love it); chestnut, thyme and pancetta stuffing; Yorkshire puddings; and gravy. And all of it, bar the gravy, was home-made. I felt very proud of myself. Although I also felt sorry for my parents, who I was in a Zoom call with all day, and who got to see me stressing out trying to get everything ready at the same time, and at the same time as the roast my Mum was cooking in her kitchen. All went mostly to plan, however, and we ate together over Zoom.
The day before, my parents had to watch me stress over making a chocolate Yule log. I won't go into the log details now, because it'll be in an upcoming food post, but suffice it to say that it was astoundingly delicious! And, thankfully, the supermarket sold me all the ingredients I needed to make it (well, apart from caster sugar, but I bought granulated sugar instead and it turned out fine).
I also bought a variety of snacks that I could munch on throughout the period, which the supermarket had plenty of. Now my task is to finish eating them. It is a very pleasant task.
When it comes to decorations, my experience at the supermarket was mixed. I wanted some standard tinsel that I could drape over a few bookcases, but the supermarket had none. So instead I bought some things from the plants section. We have: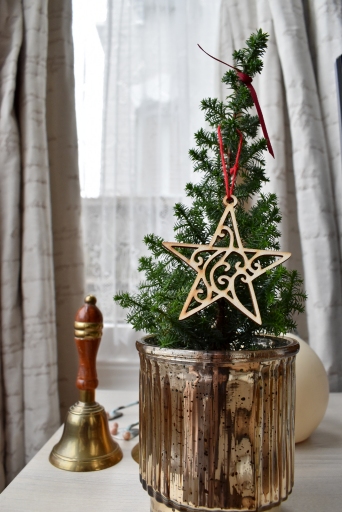 A tiny, living Christmas tree. It is wearing the Christmas decoration that I got in a card from Steve and Heather years ago. It's such a tiny tree. I am in love. Hopefully it will last a while; I would like to have a new friend around.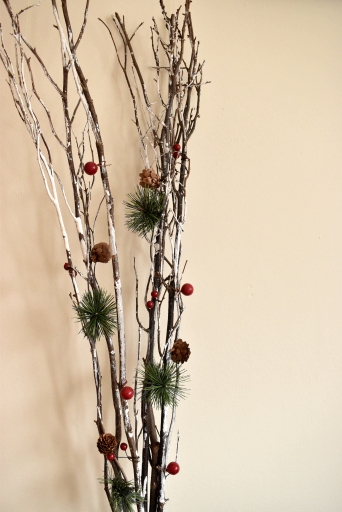 A last-minute random purchase was a bunch of twigs! But it's a pretty festive-looking bunch of twigs, so it has livened up the place.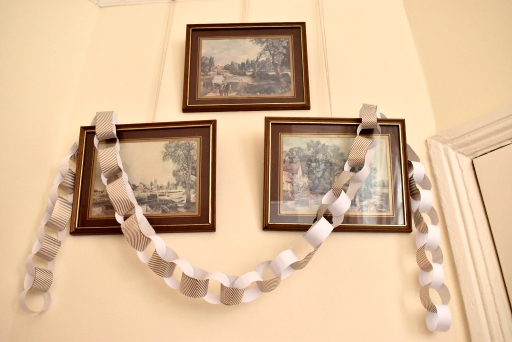 Unable to buy any more decorations, I ended up making a paper chain out of printer paper and wrapping paper. I was going to make more than one chain, but it took longer than expected and my enthusiasm ran out. Thankfully, I found an old piece of red ribbon that I had been saving (not pictured) which served as a paper chain substitute in my bedroom.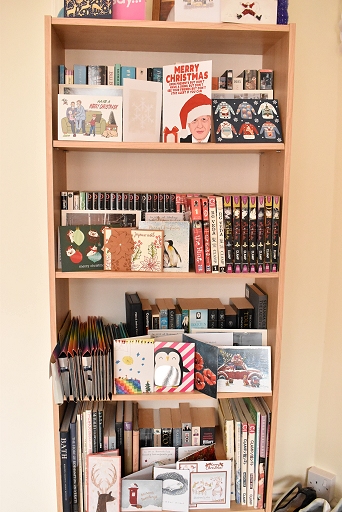 As always, I received some lovely Christmas cards. The Boris one at the top is very topical and I might keep it for future reference. I had thought that I would receive fewer cards than normal this year, but not so! I might have even received more than normal. It seems that people were very keen to celebrate hard and to celebrate together in the only way they could. I am very grateful.
In fact, on that point, I had thought that I wouldn't receive many Christmas presents this year. I had bought a load of presents for my parents, and they had bought presents for me, but the last-minute changes meant we couldn't get the presents to each other. I particularly did not want my parents to risk a trip to the Post Office just for the sake of presents. And so, I had expected to not have many presents and to instead have a late Christmas present-giving sesh in the spring. But, oh my word, my friends came through for me. So many lovely things arrived, and quite a few of them were completely unexpected! Honestly, despite not being able to see anyone in person, I feel so connected to all my friends and relatives. It really is lovely.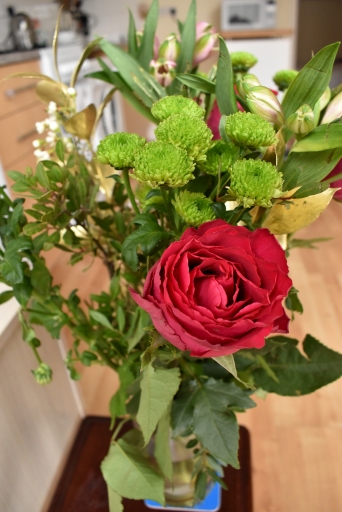 Deborah sent me a gorgeous bouquet of flowers which arrived on Christmas Eve.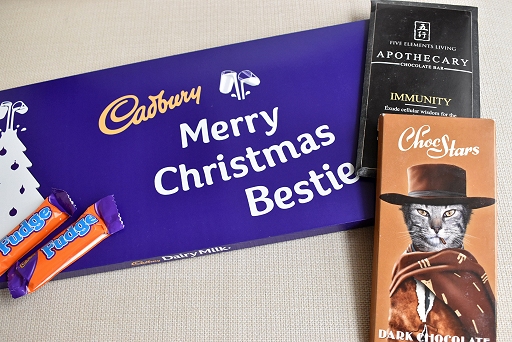 Deborah also sent a bar of Cadbury's that is larger than my head. I haven't started eating it yet and I'm intimidated. The other two chocolate bars were from Mariya. I am very keen to know what the "Immunity" chocolate tastes like. Hopefully it tastes like delicious chocolate and not like "health". But maybe if it tastes like health I can pretend that it's good for me. The tiny little fudge bars came from my Mum. I had asked her to post me a 2021 diary that she had bought me. I told her only to post it if it would go in the post on a normal stamp, because I didn't want to send her the post office. And bless my Mum, she had weighed the package and realised she could fit two little chocolates in the weight limit.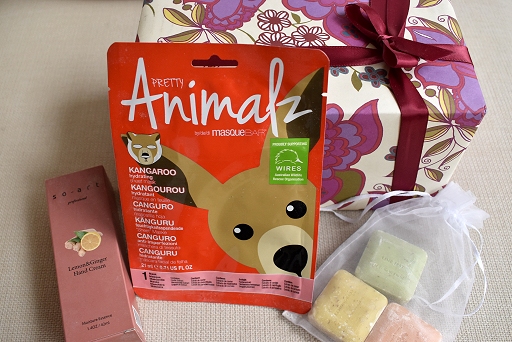 Beauty products. We have a little bag of soaps from Mariya that smells so lovely. The kangaroo sheet mask and the lemon and ginger hand cream come from Mariya too. All very useful for pandemic times! My hands get so dry with all this sanitising and the face coverings make my face dry too, so I am hoping the sheet mask gives me a bit more moisture. The box behind is a box full of bath bombs and is from Asia; it smells really nice.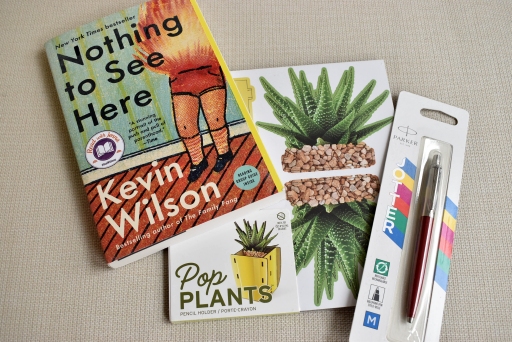 Finally we have a book from Mariya that I am interested to get into, and then a fake pot plant from Mariya that is actually a pen holder! Very useful for working from home, and if my Christmas tree doesn't last long I at least know I will have a new plant friend who will stick around. The Parker pen (also useful for working from home) comes from my Mum; she found that this would fit in the weight limit with the diary too.
Honestly, honestly. Everyone has been so nice. There's nothing like hard times to make you realise what you're grateful for. I love my friends and family. 2020 has been bad bad awful, but that shared experience? That connection with other people despite everything? That's one heck of a silver lining.
2 comments
I preemptively moved back in with my parents in November because I recognized that doing Christmas alone would cause me emotional distress. You are a hero.
And for another, I'm not going to welcome in 2021 until it has proved itself to me.
WHAT SHE SAID
That tree is the cutest tree ever in the world, and looks like all of Christmas in a tiny manageable package. I wish it well, and hope it lasts you for many Christmases to come.
Your other decorations were also very pretty! We didn't decorate much, on account of we were scared our only not-shitty family were dying of COVID — but they're fine, we're fine, and there will (hopefully!!!) be many other Christmases.
Your cards, presents, and books all look wonderful. Your mom sounds like a lovely person; now I see where you get it all from.
Glad everything worked out in the end, as they say.
Happy Belated Christmas, Happy Belated New Year's, and here's hoping we can all be together (for certain values of "we," "all," and "together") in Christmas 2021. ♥️
Thank you!
Christmas by myself was surprisingly easy actually. I spent a lot of time with friends and family, even if it was just virtually. And I was very determined to fill my days doing something I enjoy (which for me involves getting stressed in the kitchen). I even woke up super early on Christmas day because I was too excited to sleep any longer.
The Christmas tree is still going strong. I have a habit of killing pot plants, but I've not managed to kill this one yet!