Posted by

Janine

on 07 May 2006 in blog
So James and Linda were complaining that they never get a mention in my blog. So I made a little tribute to them. Linda, James, you'd better like this or so help me God I'll...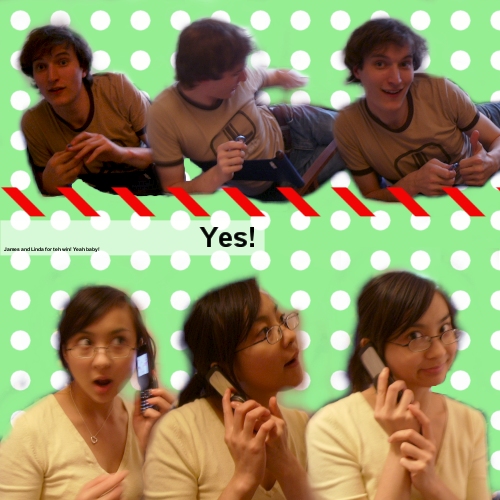 Top: James
Bottom: Linda
They are two of my housemates and are both lovely lovely people. Lovely I say! Lovely!
8 comments
Haha, well. Technically it's due in any time between the 10th and the 15th, because it's just a draft, but I really wanted to get it in for today. As it turns out, I spent too much of my time watching ninjas dancing on the internet so couldn't get it done in time.
I'm going to hand it in tomorrow though! OH YES.
Hi jAnINe! Thanks for the link! The end of the dance is so cool…just like someone had said, everything is better with ninjas. Good luck with your coursework! It' due today, itsn't it?
It'S aLSo MuCH harDEr tO ReAd.
ANd thAt'S nOT yoUr wEBsiTE.
WOW! I feEL sO muCH bEtteR noW! tHanKS evEr sO muCh JaNeT aND i rEallY apPreCiaTe it.
PS: dO yoU liKe my TypiNg. iTs aLl tHE raGE in ASia bUt turNs oUT itS muCh harDEr to tyPe. TRy it yOUrselF!!!
x-x
I'll see what I can do, but it may have to be in a few days because I have an important coursework deadline on Thursday. Also, I'm really sorry that I haven't been able to write to you yet; I think that may have to wait until June, when my exams are over.
Another YouTube link if you like, here is a funky ninja dance.
PS I love YouTube too…and you're the one who started this addiction for me with those xxHolic links
Considering that I am one of the pretty consitent "post-ers" on you blog I feel that I deserve a tribute too, nay I feel that I should demand one. OK, ok, I just think that that picture looks adorable. Plus, I rarely tire of looking at myself :P
Spanks Janny-Fanny. I love to look at myself.