Posted by

Janine

on 05 Jul 2021 in blog
I hope you're all well! I am enjoying the long days of summer. It really is nice this time of year when the sun lasts late into the evening. I always miss it when winter comes around. The roses are out in people's gardens, and it's not too hot here at the moment (we've got rain more than anything right now). If only I could go outside without having to tank myself up on antihistamines to stop my hayfever it would be perfect!
The recipes I've been cooking recently have all been quite summery, so let's get to it.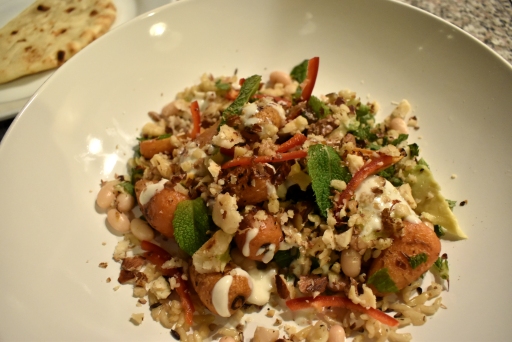 Roasted carrot and grain salad
This was my first time cooking with tahini and I have realised that I am not a tahini fan. It's very savoury and quite bitter, and I have since learnt that I need quite a lot of sweetness and acid with it to make it palatable to me. This recipe contains lemon juice, and the carrots are sweet, but it needed more sweetness for it to work for me. I was thinking some added pomegranate would be nice. My two other gripes are that my carrot wasn't fully cooked in the time given, and the portion size was small enough that I was left hungry. As an aside that I don't think affected much: I couldn't find a pouch of rice, quinoa and haricot beans, so I bought a pouch of rice and quinoa and added some tinned haricot beans to it. Overall, this meal was decent, but would have been better if you like tahini more than I do.
Sweet potato, lentil and feta salad
I thought this might be too sweet with the sweet potato, the roasted onions and the balsamic vinegar, but actually the feta, rocket and lentils balanced out the sweetness nicely. What I mean to say is that this was amazingly delicious. I could have done with a larger portion size but that is my only complaint. It was really easy to make and really worth it too.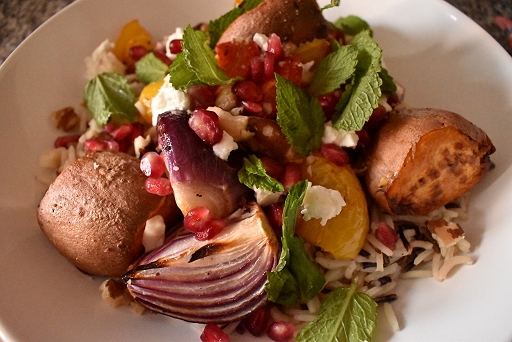 Jamie's warm rainbow veg salad
Again, I thought this would be too sweet with the sweet potato, roasted onions, roasted peppers and pomegranate, but it was actually really tasty. It's the first Jamie Oliver recipe I've made in a while where the flavours have felt well-balanced. My sweet potatoes and onions were a little bit underdone in the time given, but at least I don't have to complain about the portion size this time; I was left happily full. My only issue is my own lack of experience when it comes to pomegranates. I was a bit more successful in tackling my pomegranate than I was the last time I attempted one, but I did still manage to ruin some of the paintwork in my kitchen with pomegranate juice! Hopefully I can tell my landlord that it just means the kitchen has been well loved.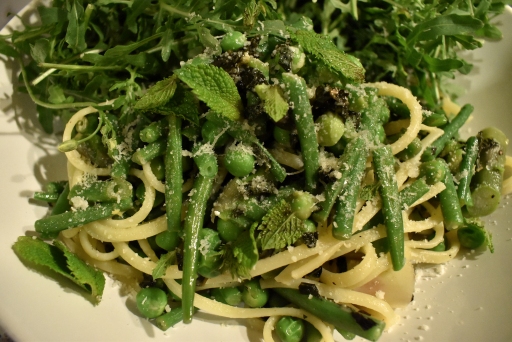 Spring veg linguine
The supermarket was really low on asparagus, so I had to mix my asparagus with green beans, but I don't think it affected the taste too much. In terms of taste, I found this dish a little bit too sweet and lacking in umami. I am not a pea fan because they're too sweet, so I'm not surprised I found this dish too sweet for me. Some extra garlic and extra cheese for more umami would have balanced out the sweetness nicely. Jamie recommends serving this pasta with a side salad of pure rocket (I even followed the suggested rocket portion size) and oh blimey that's a lot of rocket. Very bitter and very peppery; I think mixing up the rocket with some other leaves would have been the way to go.