Food post - 2 September 2019
Posted by

Janine

on 02 Sep 2019 in blog
I've been cooking a lot recently, so there are quite a few recipes to talk about today.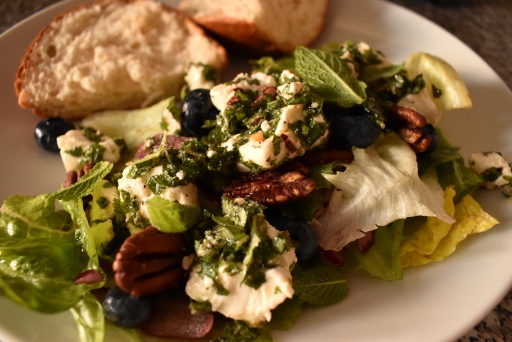 Blueberry, pecan and feta salad
This dish gets A* on presentation. The colours work really well together. The actual taste of the salad? Not for me. I normally side-eye nuts in salad, and I side-eye fruit in salad even more. Strangely, the pecans and the blueberries in this salad weren't actually the worst part. In fact, both added a necessary mellowness to the dish. My problem was that the feta was too salty (feta always is for me; I'm not a fan) and the raw onions and raw garlic were overwhelming with their strength and heat (and there are chilli flakes too, just for that extra hot kick). The first couple of mouthfuls had a nice balance of flavours, but a whole portion of this salad was too much for me.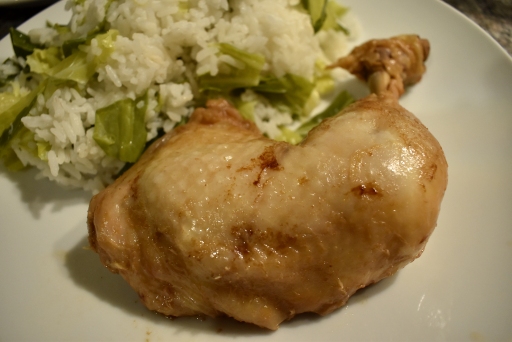 Melaka stewed chicken legs (recipe from "Chicken Leg" by Hoe Yee)
Melaka is palm sugar. Other exotic ingredients in this dish are ketchup manis and coriander root. I was able to buy a bottle of ketchup manis; it's a thick, sugary version of soy sauce and where has it been all my life? Coriander root is more difficult to buy. I didn't even know you could eat coriander root! My supermarket didn't sell any coriander root, so I bought a living coriander plant and dug it up. The roots from my plant were probably smaller than the ones I was meant to use, because I couldn't taste it in the finished dish at all. Oh well. Digging around in the soil of a pot plant was kinda fun anyway (said pot plant then died two days later; I'm not surprised). So, the recipe says to simmer the chicken legs for 25 minutes, but I went for 50 as usual. The overall result? Meh. I was expecting the taste to have a really sweet, salty kick, but actually the taste wasn't very strong at all.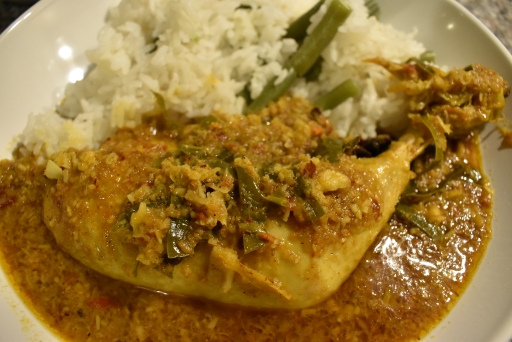 Rendang chicken legs (recipe from "Chicken Leg" by Hoe Yee)
I had never had rendang curry before. (Google tells me that the version served in Malaysia, like this one, is more saucey than the drier, original dish from Indonesia.) I was a bit worried that this curry was going to be too hot for my tastes. It contained five dried chillies as well as curry powder, and all for just two portions. I needn't have worried. It was hot, but more of a pleasant heat than an overpowering one (maybe that's because I deseeded my dried chillies to make it more bearable). The recipe calls for several things I couldn't buy: chicken curry powder (I used normal curry powder); turmeric leaves (I used extra kaffir lime leaves instead); chicken powder (??? I assumed it meant a chicken stock cube, because that's what I used); candlenuts (I used cashew nuts); and kerisik. Kerisik, it turns out, is grated coconut, which is toasted. And so I bought some coconut, grated it and toasted it. The smell when toasting coconut is gorgeous, by the way. The recipe says to simmer the chicken in the sauce for 30 minutes, but I went for 50 minutes as per usual (my chicken came out oddly tough, which I think must somehow have been an error on my part rather than the recipe). In terms of flavour, this dish has it all. Call me a rendang convert! It is rich, warming, creamy, tangy and full of flavour. My only problem is that texturally it was not fun. You're meant to use a blender to make the curry paste, but I used a food processor, which left my paste more chunky than it should have been. Add to that the kaffir lime leaves which are shredded (not finely enough on my part, clearly) and you end up with a mouthfeel that's mealy, chewy and lumpy. Not great, but the taste more than made up for it. The taste was also worth the inclusion of the fresh turmeric, which has, once again, left everything in my kitchen yellow.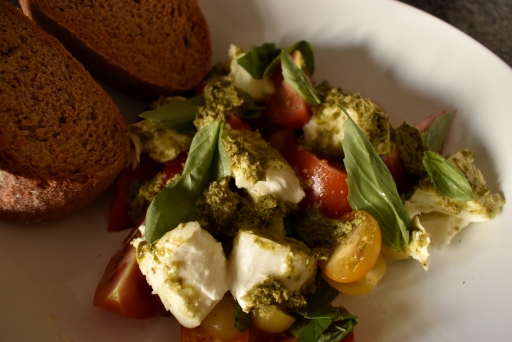 Marinated mozzarella salad
This salad was nice but didn't wow me as much as it was meant to. The mozzarella is marinated in pesto, and then added to the tomatoes and basil, along with lemon zest and fennel seeds. I don't really know what the lemon zest and fennel seeds were doing in there; they were nice, but I think their flavours detracted from the main basil, tomato, mozzarella thing going on. Seriously, basil, tomato and mozzarella is a classic and excellent flavour combination; don't mess with it. Two additional points: the recipe said to serve the dish with one slice of toast, but I like my dinner to actually fill me up, so I added a second slice. Also, the recipe doesn't say what to do with the vine tomatoes. My vine tomatoes were far too large to use whole, so I chopped them into wedges.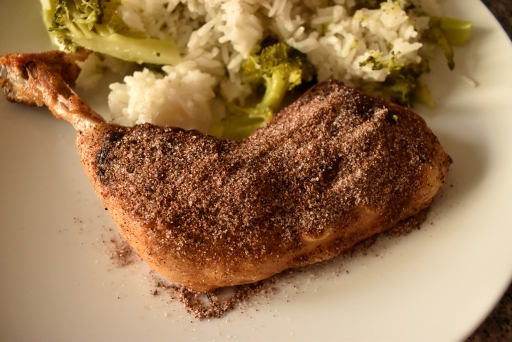 Taiwan style five spices chili chicken legs (recipe from "Chicken Leg" by Hoe Yee)
This recipe could have been really good. It was so close to being absolutely delicious, but unfortunately it veered slightly into disaster territory. The theory: the chicken is simmered in spices for 20 minutes, then drained, deep-fried and finally covered in a spice powder. I dislike deep-frying, so after I had simmered my chicken, I shallow-fried it for a bit, then stuck it in the oven. That was all fine. The sauce for simmering the chicken contained star anise, cinnamon, garlic, soy sauce and rock sugar (I couldn't find rock sugar, so used caster sugar instead): this is pretty much a flavour dream-team and makes for both delicious chicken and a lovely smell while cooking. The spice powder dumped on the chicken at the end contained chilli powder, Chinese five spice, sugar, salt and pepper: also dream-team - it's salty, sweet, hot and fragrant. All of this added up to a dish that was nearly perfect. The only problem? In that spice powder (for only two chicken legs) is two teaspoons of salt. That's one teaspoon per serving. My God! Do you have any idea how salty that is? It makes me sad, because if you had only a quarter of the salt, this would have been amazing. That spice powder would be the best thing; I reckon you could have sprinkled it on anything (chips?) and it would have been really good. Just with less salt, please.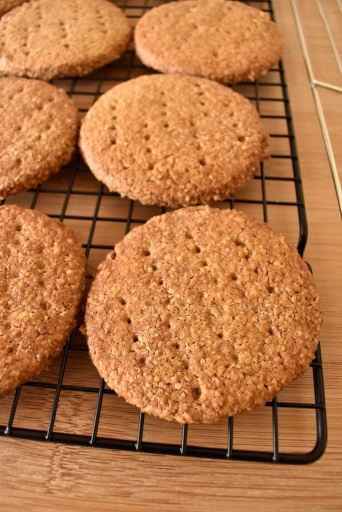 Digestives (recipe from "The Great British Bake Off Big Book of Baking" by Linda Collister)
I made these just in time for the start of the new series of the "Great British Bake Off". (How's that for timeliness?) Thankfully they were an easy bake and not a "technical challenge". I hadn't even considered before that digestives were a thing you could make yourself; I thought they just came in packets. These didn't taste quite like the shop-bought version; the homemade ones are slightly less salty, slightly less sweet and significantly more buttery. The butteryness is nice, although it makes the biscuit texture quite short and crumbly to eat. According to the recipe, I should have made 20 biscuits, but my mixture only stretched to about 16. I might not have rolled them thin enough. The biscuits are big too. You're supposed to use a 7.5cm diameter biscuit cutter, but my cutter was about 7cm diameter instead. Turns out I needn't have worried, because the baking powder in these makes them grow in the oven (which, stupidly, I wasn't expecting). They came out huge! My finished biscuits were about 8-9cm in diameter. I'm not complaining.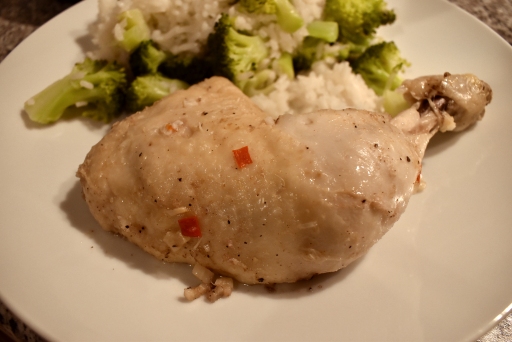 Chicken legs simmered with chili shrimp sauce (recipe from "Chicken Leg" by Hoe Yee)
I had been in fear of this recipe ever since I Googled "shrimp sauce", as listed in the ingredients, and discovered that it probably means "shrimp paste". Previous recipes in the book have asked for belacan, which looks to be a dried brick of shrimp paste, so I imagine that the "shrimp sauce" specified here is used to mean a more liquid type of shrimp paste (which more-liquid version is the only version I can actually buy anyway). I am not a fan of shrimp paste. It is an acquired taste that I still haven't acquired yet, and I can only stomach it if it's masked with lots of other strong flavours. That's why this recipe scared me: there weren't many other ingredients listed, and one of those ingredients is the only-slightly-less-pungent fish sauce. Oh no. Oh no! Couple that to the fact that it's been a few months since I last used either shrimp paste or fish sauce so I had forgotten exactly how strong they smell; opening the jar to the shrimp paste was not a fun reminder! So, I duly marinated the chicken, then steamed it (only I steamed it for 50 minutes, instead of the 20 stated in the recipe). The smell didn't mellow during cooking. It smelled bad. It smelled heinous. I wasn't particularly hungry that night (the result of an overly-large breakfast earlier in the day) and the smell wasn't doing anything to whet my appetite. Oh my God. I'm pretty sure that cooking a dish and setting it on the table shouldn't be followed by a wave of anxiety; I actually had to take a couple of minutes to steel my nerves before I started eating. But, do you know what? The taste wasn't anywhere near as bad as the smell. I've said that I can only stomach shrimp paste when it's masked with other strong flavours, and that's exactly what the copious amounts of chilli and garlic in this recipe do. All the shrimp paste did was give the chicken a salty, savoury taste in the background. I mean, it's still not my favourite dish ever, but it wasn't the horror I expected it to be. Thank goodness for that.