posted on Dec 1, 2020 by
Janine
in
blog
IT IS TIME! TO WRITE! ANOTHER FOOD POST!
Oh it's good to be back! So, even though the pandemic is far from over (I am currently writing this post from England's second lockdown - I hope you are all safe and well, by the way!) I feel ready to start trying new recipes again. There are two reasons for this: 1) Panic-buying has calmed down to the point where I am no longer worried that I won't be able to buy things like flour or eggs. And 2) I've been looking into stress management recently and one of the pieces of advice I came across was "make time to do things you enjoy"; it made me realise that I had put off this hobby for too long.
I adore trying new recipes. It is so much fun. And I have been greatly enjoying myself since I started again, even during the failures (especially during the failures?)
Let's get to it.
Peanut chicken legs (recipe from "Chicken Leg" by Hoe Yee)
When I made the Hainanese fried chicken legs from this recipe book a few months back, I had thought that that recipe was the final boss of the book, because it contained all the difficult parts of previous recipes combined. "Thank goodness," I thought, "I won't have to make a recipe this difficult ever again." Wrong! I was so very wrong! Turns out there was another boss to defeat and that was Peanut chicken legs. This recipe contained almost all the difficult parts of the last one, save that I don't have to bother cooking potatoes in the sauce. We have: to create 2tbsp of shallot juice and 2tbsp of ginger juice for a marinade; to do something with 3tbsp tapioca flour which the recipe doesn't deign to explain (I substituted cornflour because I couldn't find tapioca flour, and decided to use it to flour the marinated chicken legs before frying them); to deep-fry the chicken (which I, again, refused to do and so shallow-fried them followed by a stint in the oven); and to make a sauce from scratch, which must then be thickened with a random amount of cornflour solution (mine came out too thin with the previous recipe, so I added in extra cornflour this time, but it was perhaps too much because my sauce turned out very thick and pale). There was so much that could go wrong! Still, I bravely followed all the steps and only had one close call with the grater when attempting to juice the shallots and the ginger; everything else went smoothly. And so, hours (hours!) later, I had a presentable looking dish in front of me. However, unlike the previous boss Hainanese fried chicken legs, these peanut chicken legs were absolutely not worth the effort. Oh, the dish wasn't bad. But where the Hainanese fried chicken legs were delicious, the peanut chicken legs were indifferent. They were very peanutty, you see, and a bit too sweet because of it; there needed to be a sharper note or a more-savoury note to temper the sweetness that just wasn't there. Is this the time to mention that I don't really care for peanuts?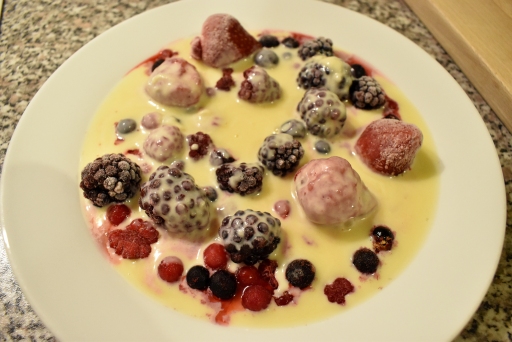 Iced berries with white chocolate sauce (recipe from "Nigellissima: Instant Italian Inspiration" by Nigella Lawson)
This recipe was meant to be "Iced berries with limoncello white chocolate sauce" but I left out the alcohol. The limoncello is meant to make the white chocolate sauce more "sophisticated" and adult, but I like white chocolate so I don't really care about sophistication. I did consider adding a bit of lemon juice for flavour, but decided against it for fear that it would make the chocolate sauce (basically just melted white chocolate with double cream stirred in) split. The last time I tried to do things with cream and chocolate it split terribly so I am now scared to work with the stuff. This is also why I used Nigella's alternative method of melting the chocolate in a double boiler and didn't go with just melting it directly in a pan as Nigella "I do like an element of risk" gives as the first option. So, basically, this recipe is just frozen berries that are still frozen while you pour melted white chocolate and cream on top. For something that sounds so delicious it was oddly disappointing. (Maybe because I didn't go with the sophisticated limoncello?) The frozen berries were very frozen and were hard and very cold to bite into. They also cooled the sauce instantly, so I was left with a cold sauce that had re-solidified in places (the limoncello would definitely have stopped the re-solidification, I'm sure) and not the hot/cold mix I was promised. Did I spend too many seconds taking photos? I tried to be as quick as possible! Also, my berry mix turned out to be incredibly tart. There were lots of blackcurrants and redcurrants in there and the sharpness of them really made me wince. Like, this dish wasn't bad. Nothing made with fruit and chocolate and cream can be bad, but it was surprisingly lacklustre given how delicious those ingredients can be when given the chance.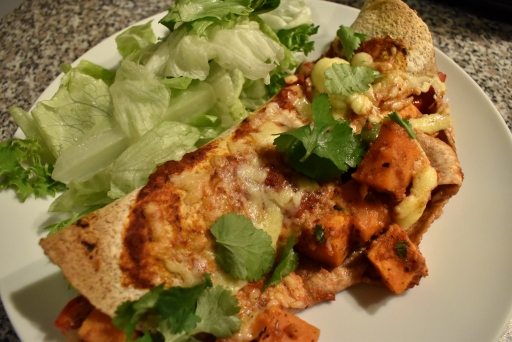 Sweet potato and pepper enchiladas
I had never made enchiladas before this. I'd never even eaten enchiladas before this! And I am so glad I rectified that because these are delicious! They're a bit of a faff to make because you have to roast the vegetables beforehand, and then make a sauce that involves hauling the food processor out of the cupboard (I think you could also use a blender? But I don't have one of those), and then you have to assemble them and bake again. But it's worth it. The sauce tasted surprisingly delicious and non-homemade for something that is 90% tinned tomatoes, and it's got a chilli kick to it too. I was worried about how I would find the roasted veg and the lack of meat, because I normally find sweet potatoes too sweet and find recipes with these kinds of ingredients lacking in umami. I needn't have worried. The wholemeal tortillas and cheese give you all the umami you could wish for, and they balance out the sweetness of the veg perfectly. Did I mention that the edges of the tortillas got crispy in the oven? A delight! All served with a simple salad in a nice dressing. I had immense fun making this and eating it too.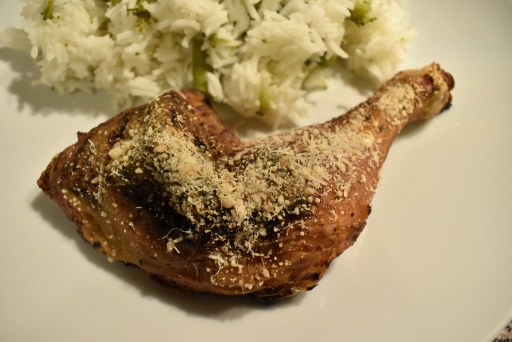 Baked chicken legs with mustard paste and cheese (recipe from "Chicken Leg" by Hoe Yee)
This... Guys, this is the last chicken leg recipe in the book. I have now made them all! (Give or take.) Thankfully this last recipe was easy and didn't require any shallot-juicing or deep-frying. Basically the chicken is marinated in a dry rub of salt and pepper, then baked in the oven, and finally topped with mustard (the specific type of mustard isn't mentioned, so I went for what was in my fridge, which is Dijon) and Parmesan and put back in the oven to brown. But, of course, a chicken leg recipe from this book is never as easy as that. You were meant to bake the chicken at 250°C (250°C!) for 25 minutes. I have learnt that the 25 minutes this recipe book always calls for is not long enough to cook my chicken, so I generally go for 50 minutes. I had never attempted to cook chicken at as high a temperature as 250°C before, but I decided to go ahead with the 50 minutes anyway, which did leave my chicken a little black on top. The recipe also says to leave the chicken to cool before putting the mustard and cheese on top. I let mine cool for 10 minutes (thinking that maybe if they were too hot the mustard and cheese would just slide off or something) but I didn't let them cool completely, because heating chicken then cooling it then heating it again just sounds like a recipe for food poisoning if you ask me. The result was: chicken legs cooked at this temperature have a very crispy skin, a juicy interior, and the meat falls off the bone perfectly, even if the skin did get a little burnt (and let's not worry about the oil spatters I will now have to clean from my oven). Mustard and Parmesan go surprisingly well together and taste nice with chicken. But the salt in the dry rub made this chicken far too salty for me, especially with salty Parmesan on top. The saltiness does give it a lovely American-fried chicken vibe, but it's a bit too salty to be truly on point.
***
And that's it! With my first food post after the pandemic-related hiatus I have finished "Chicken Leg"! It feels like the end of an era. I have now cooked every single recipe from this book save for the ones where a) I couldn't find the ingredients (like preserved bean curd or dang gui) in my supermarket, or b) I noped out of them, either because the main ingredient (like beer or cola) is not one I consume or because the recipe was too "out there" for me (see for example the Preserved chicken legs recipe, which involves rubbing the chicken in salt and saltpetre, then hanging it in the sun to dry for days thus creating some kind of chicken ham thing).
Of the recipes I did make from this book, some were superbly delicious, some were heinously bad (which I think is probably due to typos in most cases), and only a few were mediocre. And I have learnt so much! It's been great to follow Malaysian/Chinese/South East Asian recipes. I definitely now have new flavour combinations and techniques in my arsenal. I have also learnt that shrimp paste is an acquired taste that I very much have not acquired yet, and that chicken legs are a really great (and cheap!) cut of meat. Will I make any of the recipes again? Probably. Some of them were so delicious that I would be silly not to. Will I make them strictly to the recipes' instructions again? Probably not if it involves juicing shallots. I never want to juice a shallot ever again.
So, overall, working my way through this cookbook has been an experience. I have had a time! Larks have definitely been had.
2 comments
Yes, finally a food post!!! I'm so proud that you completed the book (thanks random Singaporean book store). I am sad you don't want to try curing your own chicken leg in the sun - nothing weird to see there. :) I am currently trying out recipes from My Mexico City Kitchen: Recipes and Convictions by Gabriela Camara. I've been to her restaurant in Mexico City, it was excellent. So far I've re-confirmed the fact that Mexican food is delicious but proper recipes are not for sissies. The "quick" green mole involved me toasting pumpkin seeds, making the sauce, browning pork, cooking pork in the sauce for 45 min, cooking green beans for 15 min more, realizing that I am out of cilantro and skipping that part. It came out delicious nonetheless.
I can't wait to read about your next culinary undertaking. For Nigella's recipe, I wonder if you could use fresh berries and lemon or lime zest to give the chocolate some zing without worrying that it will split. Also if you plan to work with chocolate, I recommend buying paramount crystals (they are basically palm oil flakes) to help make chocolate thinner, creamier, and less likely to seize. I'm sure Amazon stocks them but I've also seen them at the big hobby stores that have a baking section. Good luck!!
Maybe chicken legs would actually cure in the sun in Singapore. But the sun in the UK would just make them sad. (Thank you, by the way, for enabling me to go on my chicken leg journey!)
I'm glad to hear you're enjoying Mexican recipes! But, wow, that is not a quick recipe. Anything that involves toasting seeds is not a quick recipe. I love how recipes do this: they'll say it takes 10 minutes to prepare and an hour later I'm still frantically cooking.
I never thought of zest to flavour the chocolate. That sounds like it would work! And I think the recipe would be better with fresh berries, especially berries in season that would actually be sweet.
I've not heard of paramount crystals before. How interesting! They sound good for when you have a melted chocolate thing that you absolutely have to get right.