Posted by

Janine

on 12 Aug 2019 in blog
I had a birthday recently. Unlike last year, there were no deaths in the family on my birthday this year, so I'm counting that as a positive. Even if I am now technically closer to 40 than to 30. (But, I mean, turning 30 was great, so who's to say the upward trend won't continue when I reach my next big birthday?)
My parents visited the weekend after my birthday. We stuffed our faces with burgers and then went to admire a National Trust property. I love visiting big, old houses; they're so pretty. (Although I'm aware that my ancestors wouldn't have been able to go anywhere near them, except as servants.)
I got some nice cards: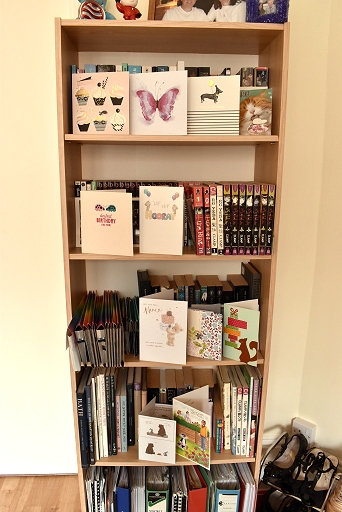 Only two cards contained cats this year. But one was a Dutch cat!
I also got some lovely presents. Here I must give a shout-out to Mariya who sent me a package of gifts all the way from the States, only to have it go missing in the post. I'm so sorry it got lost, but I appreciate the sentiment regardless! (Mariya is always so good to me <3) My own little theory is that the parcel is sitting alone in some post office in the UK (without the post office having notified me about it) and that in a couple of weeks it will be returned to sender. We'll see.
Here's a rundown of the other gifts I was given.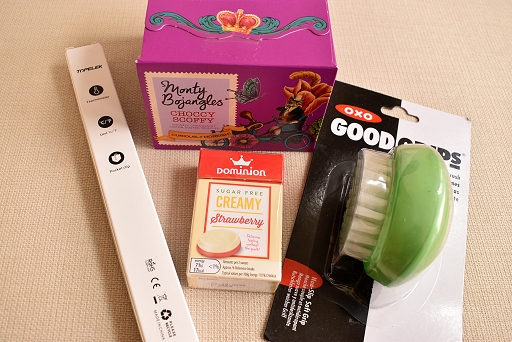 Food and kitchen gifts, including sweets, a vegetable-washing brush (I didn't even know that was a thing, but apparently it's really good for removing the soil from celery), and a meat thermometer. I am particularly excited about the meat thermometer. My current method for checking that chicken is cooked (and you know I cook a lot of chicken) is to poke it with the tip of a knife to see if the juices run clear, then be uncertain as to whether the juices are actually clear or not, and then hack it open further. Meanwhile my current method for checking that beef steaks are cooked is to cook them for far too long. It's not big and it's not clever, and my new thermometer should change all that.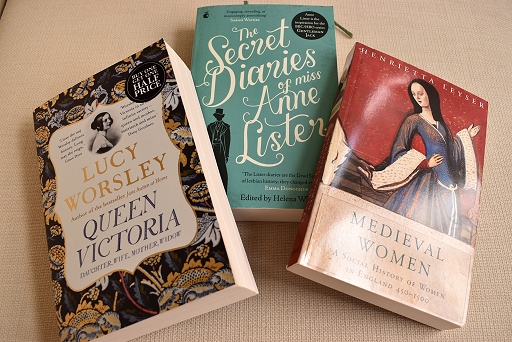 Books: all ones that I am looking forward to reading immensely, and only one of which I asked for specifically! The Queen Victoria book comes from Nick and Eva. Thank you! I had wondered why you were spending so long in Waterstones! The other two books were from my parents. The Medieval Women one sounds right up my street, and the Anne Lister diary is the book I requested. Did you guys watch "Gentleman Jack"? It was so much fun. I wanted to learn more about Anne Lister and her various girlfriends, so I thought her diaries would be a great way to go. It should also have some general information about the period too, which is always interesting.
You might see that there's a bookmark in the Anne Lister diaries. I've already read the introduction, and I'm going to start reading the diary entries proper on Wednesday (14 August) because, get this, the first entry in the diary is Wednesday 14 August 1816. Almost exactly 200 years ago and the days of the week even align too! My plan is to read each diary entry on the day it was written and so follow the romantic intrigues in real-time. Is that idea inspired or stupid? Who knows, but it'll take me about 4 years to get through it. I'm here for the long-haul! (To be honest, it was the only way I was going to allow myself to start reading the book immediately when I've already got so many other books on the go.)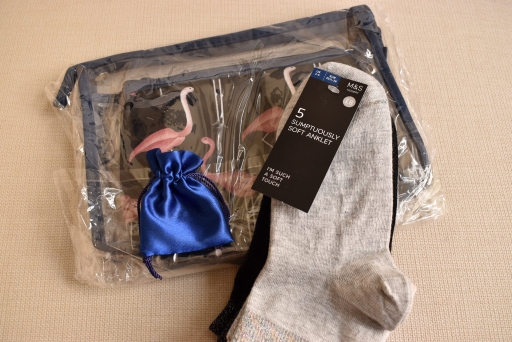 Finally, we have everything else: socks, flamingo wash bags, and the blue bag contains a tiny heart necklace that my Mum got for herself but which didn't fit her. I don't mind a second-hand necklace, especially not if it means I get to think of my Mum each time I wear it.
Not pictured on the present-front are the following:
- Lottery ticket from friend-of-the-family John. He always gets everyone a lottery ticket for their birthday (which is a tradition started by his late-wife, Jackie, who used to work in a shop that sold lottery tickets). Unsurprisingly, I didn't win anything.
- 3 courgettes fresh from my parents' garden. I couldn't photograph them because I'd already fried them up and eaten them with pasta and pancetta. Yum yum.
- Money from my parents. I meant to pay it into my current account so I could spend it on something nice (which something had yet to be determined), but I accidentally paid it into a savings account instead. Whoops. Looks like I'll be saving it then!
Thanks all for the birthday wishes! Here's to a good year to come. (And, if you ask me, a year filled with chocolate and books is bound to be a good one.)